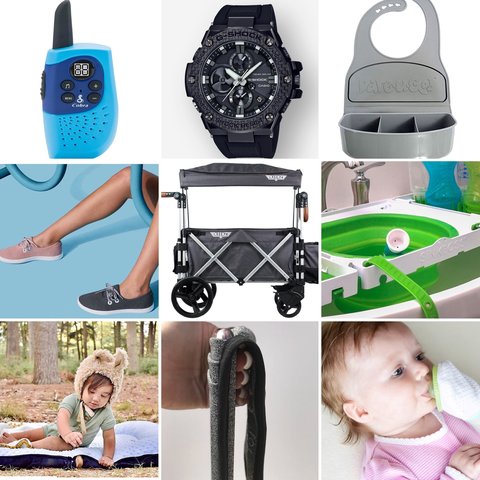 As a boy mom of three under five, traveling can be tough. However, I love getting away, and am all for anything that will make the whole traveling process smooth and easy.
When it comes to parenting must haves, what's trending is innovation and functionality. Here are my favorite finds ideal for traveling families.
This wagon is awesome. Rugged and built to last, featuring a canopy, cooler and secure seating for two kids. The cool thing… it's allowed in amusement parks and zoos because you can pull it like a wagon and push it like a stroller. Also flaunts a compact, easy fold. Shop keenz.uswith code 15OFF for a discount.
The Woombie Eco Donut is a "bring anywhere" bed in a bag. Safe and snuggly for kids ages 1-8, the hypoallergenic, comfortable concoction zippers shut to keep the inside clean. Perfect for grandma's house and hotel rooms. Shop woombie.com with code SAVE20.
Sinkboss will become your new BFF when you stay at resorts. Soon available on momgenius.com, Sinkboss is a portable, sanitary solution for washing and drying bottles and cups. The easy-fold essential pops out to fit in the sink- you can even hang it during the drying process. A major germ reducer.
If you're heading somewhere super busy, you'll want to equip your kids with the Cobra Family Safety Walkie Talkies. This family four-pack is a smart alternative to arming little ones with cell phones. The waterproof radios come paired with voice activated transmission, exceeding a 5-mile radius.
You'll also want to strategically accessorize… and for that, check out Myphonepouch.com. This wearable gadget tucks snug over your waistband and safely keeps your phone intact; there's also a place for credit cards. Never lose your phone again, especially when wearing pocketless pants like leggings!
Another accessory, especially for dad… GShock watches by Casio. Always know what time it is with these rugged watches built durable, waterproof and scratch resistant. Features include a carbon bezel, Bluetooth capabilities, dual time zones, a digital compass and more.
And if your little one is craving an accessory of their own, get 'em some PaciMitts. The anti-scratch mitts flaunt a duel purpose... offering self soothing! Great for ages 0-9 months, the two pack of soothers have a breathable upper pacifier section, promoting hand-eye coordination. Will definitely help keep little ones calm during long road trips. CPSC compliant and BPA Free.
To capture your family members, or jump on the vlogging bandwagon, surrender your cell phone camera for something more serious: the Nikon D5600. This camera takes beginners to another level showcasing a unique touchscreen which can be rotated and extended to the side of the camera. Has built-in WIFI and Bluetooth.
Here's a fun one for road-trippers… Dare u go, created by a former "America's Next Top Model." This on-the-go feeding device for kids is a glorified bib made of soft silicon worn safely around your child's neck. Comes with compartments for snacks equaling mess free eating. Smart, right!?!?
However, if you prefer flying over driving… JetKids by Stokke has debuted its brand new BedBox. Kids can ride on the rugged carry on suitcase, and once in-flight, it pops out into a bed… even includes a mattress (and stickers for kids to decorate).
And if you're heading on an adventure, consider trading in your cliché baby carrier for the LuvdBaby hiking backpack. Very comfortable with built in back support, this rugged carrier comes with a shade to protect passengers from the sun or rain and is equipped with a changing pad and plenty of pockets.
Treat your feet to what's been dubbed the world's most comfortable shoes (take my word!). On vacation, ditch the heels for Allbirds, available for men, women and kids. Made from itch free merino wool, they're so soft you can wear them sockless, keeping feet cool in the heat and warm in the cold, plus- they're machine washable. Your feet will thank you after a busy day traveling or sightseeing.
This hydrogen infused water is a celeb favorite; it flaunts zero impurities and optimal impact. Perfect for staying hydrated while traveling this holiday season, HFactor helps to relieve aches and pains and enhance how our bodies feel, function and renew.Jet lagged cured!
This travel pillow was created by a former flight attendant and offers a unique 3-way support system; the innovative design helps travelers get the best rest possible. The unique shape fills the gap between the head and shoulders to support the neck, keep your head upright (and avoiding nodding) when falling asleep.
In case you need to find your OM while on vacay... These yoga-esque gloves and socks are a must-have for travelers who don't want to schlep a bulky mat. The "paws" act as a "wearable mat;" finger and toe cutouts allow you to take full control of your positioning, making yoga practice anywhere possible.
This new system is ideal for travel photographers with any level of gear. Skout is a comfortable, secure and accessible sling-style camera and binocular harness. Perfect for adventure-seeking families.
Traveling someplace new? Avoid circling for parking spots by downloading ParkMobile. This parking app lets you easily find and pay for parking for over one million spaces across the country. Plus, you can refill your meter via your smartphone (dodging pricey parking tickets!). ParkMobile also has a reservations feature allowing you to secure parking spots at concerts and sporting events in select locations.
Nadine Bubeck is a TV personality, fashion designer, author, blogger, and Scottsdale-based blessed boy mom.