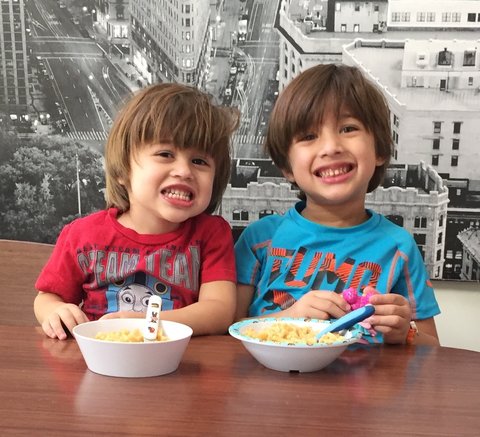 My name is Nadine and my kids suck at eating. There, I said it.
As much as I dreamt of a healthy household and easy eaters, I got quite the opposite.
My eldest, a 4-year-old, has food sensitivity, often vomiting when trying new foods. Low and behold, however, he never throws up from eating candy.
My middle child, nearing 3-years old, has a diet consisting of yogurt, crackers, hummus and macaroni and cheese (as pictured above). And if you know me, you've probably heard me harp about his issues going to the bathroom. He struggles, but no surprise considering he doesn't eat fiber.
My sister's child, on the other hand, eats edamame and beets. I clearly have a case of food envy.
I've tried everything, so I thought, until meeting my friend Michelle Gulbas. Michelle is a family nutrition specialist and owner of Eat Well Michelle. Upon meeting Michelle, I immediately adopted her advice, so I thought it fitting to share with you, my fellow moms of non-eaters. New year, new diet, right?!
Michelle, a former teacher, Holistic Nutrition Specialist and Certified Family Health Coach through the Dr. Sears Wellness Institute, says you gotta get creative when feeding picky eaters.
Her first rule of thumb: limit sugars and avoid juices; instead, focus on fruits and veggies. This, we all know.
However, there are ways to make healthy versions of family favorites, like in our case, mac and cheese. According to Michelle, use lentil pasta. After it's ready, add a little grass-fed butter, a splash of nut milk, a 1/2 cup of grass-fed cheddar cheese and finely chopped spinach. (If your kiddos are anti-green, blend everything together in a food processor.)
You can also make a healthy pizza with four simple ingredients: one 100% whole wheat tortilla, 2-3 tablespoons of a sugar-free marinara sauce spread, chopped spinach leaves, and grated organic mozzarella. Throw it in the toaster oven at 400 degrees for a few minutes and dinner is served!
And if you rely on sweetened yogurt...don't. It's packed with tons of refined sugar. As an alternative, eat Greek yogurt and add fresh berries or fruit-only sweetened jam. You can also top this with some "brain nutrients" like flax or chia seeds.
Michelle also suggests tricking your kids into going green. If your child is like mine and won't touch veggies, you still have to work in necessary nutrients- some way, some how. It's essential to provide them with a daily dose of fiber, so Michelle suggests blending berry/banana smoothies loaded with spinach, kale or green powders like Amazing Grass (which has different flavors like chocolate). You can also incorporate flax, chia and hemp seeds.
Make sure all main meals consist of a healthy fat, fiber and protein. Such fats include avocado, coconut oil, olive oil, and nuts. Fiber comes from fruits and vegetables, and protein-rich snack examples are grass-fed beef jerky and plain yogurt.
Finally, don't forget about yourself! Lead by example, and take pride in you, mama. Throughout the month of January, Michelle is offering the Re-Set Cleanse, a non cliché cleanse involving no juicing, cutting out healthy foods, or fasting. This is not a quick fix or crash diet; it's about eating clean. The main focus for the 2-week program is the daily smoothie, packed full of fat, fiber and protein which promotes satiety. The meal plans are built to ensure you hit your macronutrient goals. Templates and guidelines are included, and the goal is to leave you feeling fresh, clean and ready to take on 2018.
For more information, visit eatwellmichelle.com
Nadine Bubeck is a TV personality, fashion designer, author, blogger, and Scottsdale-based blessed boy mom.