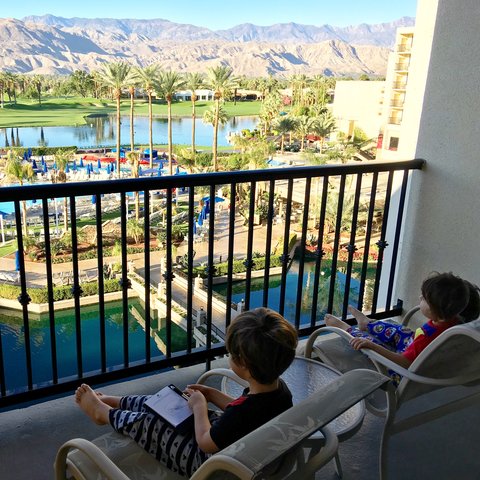 Start 'em young. That's what I kept reminding myself as I looked in the backseat of our car at our three boys: Nicholas (4), Zachary (2) and Alexander (2 months). Call us crazy, but we just returned from our first trip as a family of five, and the travel gods were in our favor: it was fabulous.
My husband and I love to travel; it's the best gift we can give each other and ourselves. Both Nicholas and Zachary (Zaza) hit the road at a young age, and now it was baby A's turn- and truth be told, we were kinda-sorta nervous our weekend getaway would go smooth. Bless his heart: Baby A slept the entire four hours en route to Palm Desert, where we would indulge in an escape at the JW Marriott Desert Springs Resort & Spa.
Tip 1: When you opt for a weekend road trip, pre-pack snacks. For example, I packed 6 baggies of goldfish. Each of the older boys got one en route to Palm Desert, Saturday for snacking, and Sunday on the way home. Also, FEED THE BABY, BURP THE BABY, and CHANGE THE BABY prior to departure.
The car ride was a breeze and we were wowed when approaching the JW. There's a big difference between a hotel and resort. Hotels are for sleeping- resorts are for indulging. We felt "away," even though the hot spot wasn't far from our Scottsdale home. The lobby was grandiose, sporting The World's First Pumpkin Bar, a 1,500 pound, 5 foot pumpkin.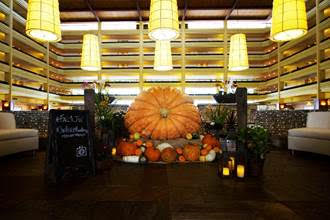 Upon arrival, we received a complimentary sparkling pumpkin punch. Delish. While we usually book single suites (or jam-pack the fam into one room), we opted for adjoining rooms. Only the BEST DECISION EVER.
Tip 2: Ditch the suite and book two adjoining rooms. This often more affordable option gives you two bathrooms, more beds, and PRIVACY when the kids go to bed.
Our rooms overlooked the layout of the resort- mountains, golf course, pools, and a lagoon. And no, we weren't in Hawaii. We experienced the Bite the Binge package, allowing guests to make the most of the plush accommodations. It included a bunch of snacks, sweets, water, and a $50 room credit. This "fall slumber party special" was definitely enjoyed by our candy-loving kids.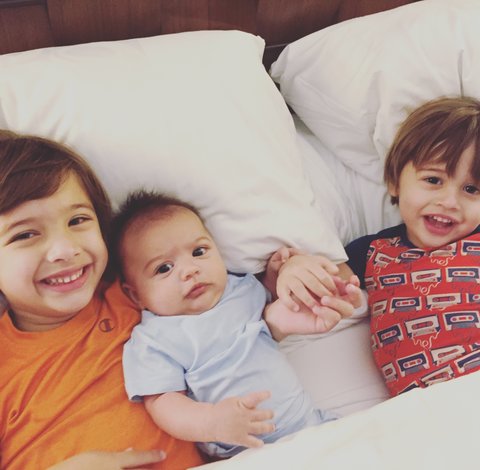 Tip 3: Shop seasonal specials! Resorts often offer really cool package deals that allow guests to optimize their experience for a slashed price. If not listed on the website, ask the concierge if any promotions are available.
Here's what's cool about the property. There are tons of dining options for any budget . For example, the Rockwood Grill, where we ate night #1, was both fancy (for us) and welcoming (for our family); the kids ate mac and cheese while we had ahi poke. Allowing guests to dine inside or out, the restaurant was both tasty and lovely. Night #2, we ate at the property's Teppanyaki restaurant, Mikado Japanese Steakhouse. (You know, those places where the entertaining chefs cook in front of you.) The kids LOVED the fire show via the chef, while we enjoyed good food and sake.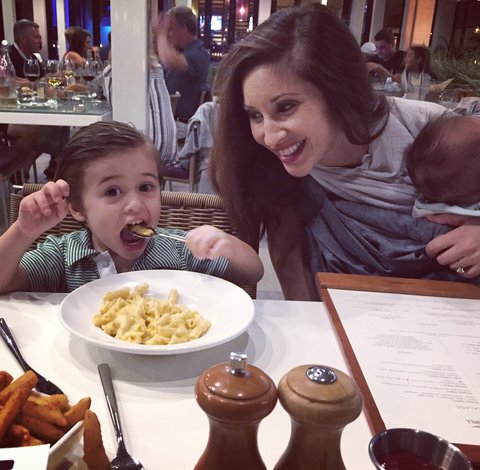 Tip 4: Many resort restaurants that might seem "elite," welcome families. Just because you have a few young kids, doesn't mean you can't enjoy a good meal. Book a reservation early in the night- even resort eateries fill up.
Our nights were young, and when on vacation, we party. The lobby lounge had free live music, and let's just say our bigger boys were a hit on the dance floor. And we ended each evening on a private boat tour of the property's lagoon. Did I mention this resort perk is FREE? It's pretty cool... there are even black swans. Both nights, we stayed up past our bedtime, but everyone slept like angels.
Tip 5: Forget the pack-n-play. Most resorts offer cribs (even though I still bring my own sheets). Makes things a lot more convenient!
While many of us are shopping ourselves silly, we are all for the gifting our family with making memories. Instead of loading up on toys, I highly suggest booking a simple getaway- load the car, escape the Valley, and enjoy some downtime.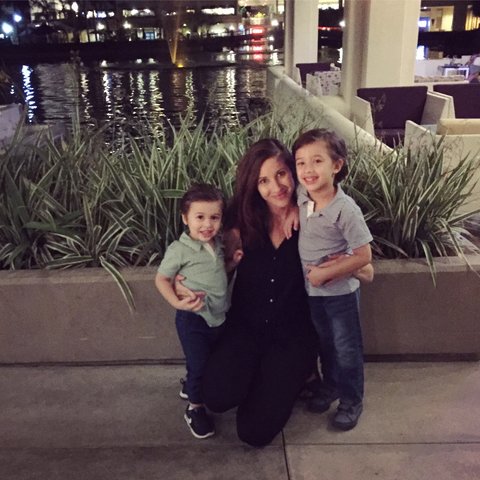 Many properties like the JW Marriott Desert Springs Resort & Spa (#Fall4JW) are offering an array of festive ways to celebrate Thanksgiving, Hannukah and Christmas. For more information, click here. And BTW, Baby A slept three of the four hours of our drive home. Which leads me to my final tip...
Tip 6: Breathe. It's vacation. Be flexible. Chill. Unwind. Do what you need to do. On our way home, we had to pull over at a rest stop so I could feed Alexander. Sure, it extended our drive, but really, NBD. Besides, we all survived our first big getaway as a family of five.
Nadine Bubeck is a TV personality, fashion designer, author, blogger, and Scottsdale-based blessed boy mom.