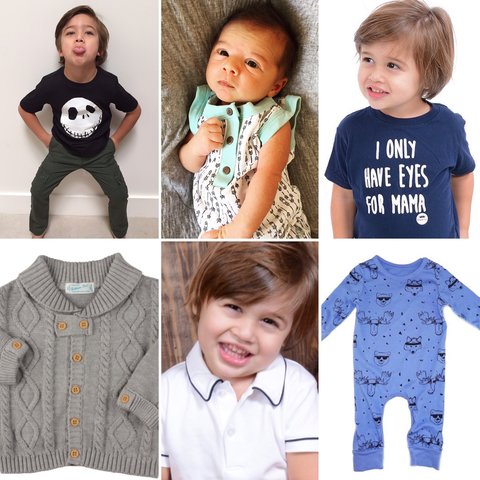 Now that I have three boys, I've embraced being on the hunt for non-cliche boy clothes (yep, trying to avoid all those "Daddy's MVP"-type gear). To me, there's nothing cuter than little guys sporting polos, jean jackets, and adorable onesies, and truth be told, it's much tougher to find must-have apparel for boys than girls. However, when I do find swoonworthy stuff, I go on an Instagram-posting-frenzy, as it's my way of playing dress up with my little men.
So for fall, I've found some pretty cool stuff from the following brands- unique and fashionable finds for boys. (And yes, they offer stuff for girls, too.)
First, Kelsey Maclean. Love love love her stuff. Seriously the SOFTEST material ever. Golf-esque polos for boys available in white, navy and blue. No oversized logos, making these polos ideal for family photos and fancy outings. There are even rompers and onesies for babies, all with preppy collars for your little trendsetter.
For chilly feet, my pick of the season is Max & Ola baby shoes. Sueded moccasins and fur-lined baby boots, much more boutique than UGGs. (Take my word.) Available in many styles and colors, these shoes are sure to keep your tot's toes nice and cozy while sporting a chic look.
For a classic look, I turn to Feltman Brothers; in fact, I've already stocked up on my boys' matching cardigans for winter outings. My pick: the Grey Wooden Button Knit Cardigan flaunting a collar tab and ribbed sleeve cuffs. They also have a similar light blue hooded cardigan, adorable for babies to "twin" with their older brothers.
For at-home lounging, there's nothing cozier than Finn + Emma rompers and PJs. The all organic, fashionably-designed items are casual and cute, a perfect combo for dressing to impressing (while staying comfortable). Trending for fall/winter: ARROWS! Shop the many footies, coveralls, shorts and pants with this eclectic design.
You guys. If you haven't perused Ice Cream Castles clothing, get ready to swoon over the stylish long sleeve rompers for trend-setting babies. I like these rompers because well, they're cute, but also ultra soft and easily washable. The mom-owned company creates items inspired by vintage designs, music, magic and travel.
Next, for my fellow deal-shopping mamas: Old Navy. I know, totally mainstream, but they are offering ADORABLE options for fall and you'll find plenty of stuff on sale. My pick for the season: must have skinny cargos for boys. Seriously, the first pant to fit my 4T toddler to perfection, and the army green color is just so cool.
And finally, some shameless self promotion. I'm all about supporting brands and companies I love, but surely I'm gaga over my clothing line. Mama B. Designs offers boy mom gear from your little mini. My favorite (duh), is our "I Only Have Eyes For Mama" baby and toddler tee. You can also shop our Miracle Line; 50% of each item benefits the March of Dimes.
Nadine Bubeck is a TV personality, fashion designer, author, blogger, and Scottsdale-based blessed boy mom.