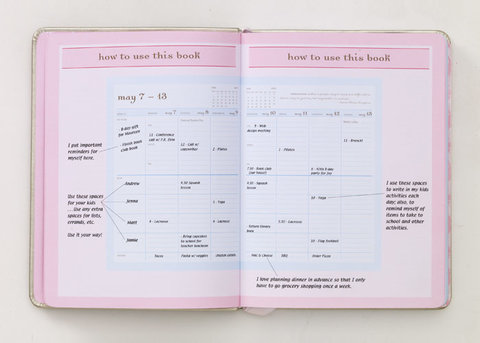 I try to get organized every single day. It's a work in progress, as there are always scattered toys, unopened mail, lose paperwork, loads of dishes, and piles of laundry. As a WAHM (work at home mom), I really want to be that picturesque OCD perfectionist when it comes to keeping things fine and dandy, but in the organization department, I am failing.
That's why I'm making it an autumn goal to kinda sorta get things together. I'm on the hunt for a killer file cabinet with a deadbolt to prevent my toddler from rummaging through our social security cards and important papers. I'm also trying to fold the laundry as soon as it's dry, rather than watching mountains of clothes accumulate. Yes, these are little goals, but every bit helps, right?!
Since it's back-to-school season, I thought I'd share some organizational insight I'm striving to achieve. These simple tips can help us all stay a little more sane.
#1. Invest in a good family planner, and for that, I like Mom Agenda. These planners are really great for those who prefer writing things down rather than typing into an electronic device. The agenda features multiple schedules catered to each child, in addition to weekly and monthly views.  There is also a special section for addresses, important phone numbers, etc. It's durable and can easily fit in a diaper bag.
#2. Meal plan. I know—tough task—but it really makes life easy. There are plenty of free downloadable templates to keep track of grocery lists and recipes. Meal planning also helps you save money at the grocery store because you stick to a list rather than buy just to buy. I've tried waiting until 5pm to decide what's for dinner and it really doesn't work well.
#3. Prep on-the-go totes. This takes some TLC, but the effort is well worth it. Pre-pack totes so you can always be prepared for leaving the house. Fill with diapers, an extra change of clothes, water bottles, snacks, books/toys, etc. Whenever you venture to the park, for example, you won't have to spend the time prepping for your outing. I also keep sandwich baggys full of Cheerios or crackers in the pantry so I'm always equipped with snacks.  
#4.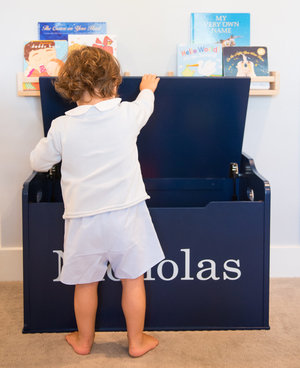 Take 10 minutes every night to plan ahead for the next day. Get backpacks loaded. Put the toys away. Prepare lunches. Choose the next day's outfit.  Etc, etc, etc…anything you can do to make the morning after less stressful. It drives me crazy going to bed with a toy-infested family room, so as tedious as it is, I always try to get the house "together" before bed. (Hint: involve the whole family; assign duties to each child. Even my toddler is slowly but surely learning how to put his toys away.) BTW, for toy organization, Dibsies sells fantastic personalized chests. They double as a bench and are equipped with safety hinges. (Pictured: the ultra modern high quality Blueberry Chest) Photo credit: Marisa Belle Photography
#5. Clean your closets and pay it forward. I came across a really cool company called Schoola. It's and easy and effective fundraising program that starts with parents cleaning out their child's closet and sending in gently used clothing that no longer fits. These items are listed at Schoola.com at amazing prices, and the result: quality brand name clothes get a second life at a fraction of retail prices. In return, schools recieve a portion of proceeds that go toward programs such as art or music. Success stories include raising $56,000 in funds that helped keep an art program alive in San Francisco, new computers in St. Louis classrooms, and a top earning school in New York has earned over $61,000 to keep its orchestra playing. It's pretty neat--plus it helps clean your closets making room for new clothes!
About Nadine
Nadine Bubeck is a mom, wife, multi-media personality, host, author, blogger, keynote speaker, and PR professional. She has been an anchor/reporter at TV stations in San Diego, California, and Phoenix, Arizona. She contributes to numerous motherhood-based publications and is often featured as a parenting expert on television, among other media outlets. Nadine can often be found at mommy-and-me classes, playgrounds, and kid-friendly restaurants. She lives in Scottsdale, Arizona with her husband and sons, Nicholas and Zachary. She's a blessed boy mom and queen of the house. Her book, Expecting Perfect: My Bumpy Journey to Mommyhood, is available on Amazon.  For more: www.allthingsmama.tv
Nadine would love to hear from you: This e-mail address is being protected from spambots. You need JavaScript enabled to view it