Rachel Roland is a mom on a mission - exploring beautiful Arizona with her two little companions, Jeremiah and Sarah, in search of the best restaurants, attractions, and products for you and your children. See what she has in store for your family today!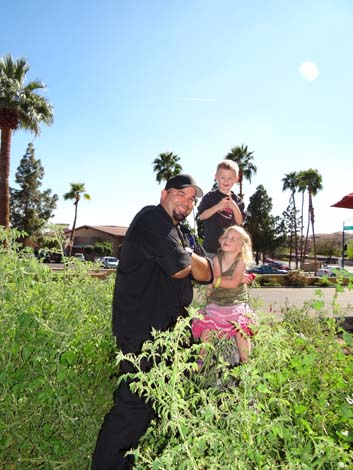 The kids and I recently had lunch at the lovely Rico's American Grill, which is located at the Pointe Hilton Squaw Peak Resort. Lunch was great - the kids were able to split the cheeseburger kid's meal, and I had the maple-smoked salmon salad - they were all delicious. After lunch, we had to indulge: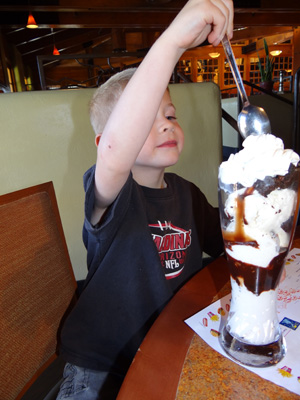 We all shared the 'cookies and cream' dessert, a tall glass filled with ice cream, freshly baked cookies, and whipped cream. It was fantastic. But what makes Rico's so special is not just the food, rustic decor, or anything like that. It has to do with what drives their head chef - Kenneth Arneson.
The kids and I had a chance to chat with Chef Ken after our lunch, as well as tour the garden that is grown along the side of Rico's. Chef Ken is passionate about running a locally sourced and environmentally responsible restaurant, which I can most certainly appreciate. Along with growing a garden for the restaurant's use, he has also started saving all compostable material to be sent to Singh Farms. They turn it into compost and bring it back to the restaurant, for use in the garden. The plan is to make sure all the restaurants at the Pointe Hilton Squaw Peak start composting their green materials in the coming years, too.
All the items grown in Rico's garden are from heirloom seeds, and there are no pesticides or chemical fertilizers used in the soil. When it comes to bug repellents, Chef Ken relies on natural methods like rosemary plants to help keep bugs away.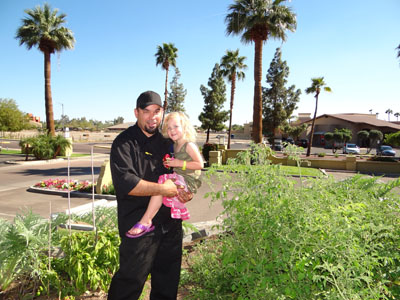 You can also tell the Chef Ken is great with kids - and it's no surprise he teaches children's cooking classes during the summer - children come out to the garden and pick lettuce, tomatoes, peppers, and more to help make delicious dishes. I'll definitely be taking Jeremiah and Sarah when the time comes - what a great way to help kick that "summer boredom" that can happen to all of us.
I loved dining at Rico's American Grill- the food was good, but more importantly, it was from good places. Sometimes, we don't know where our food comes from - and we should!
Rico's American Grill is located at the Pointe Hilton Squaw Peak Resort, 7677 North 16th Street in Phoenix. They serve breakfast, lunch, and dinner, as well as a full bar with many local brews - even a signature "Rico's Rough Rider" beer.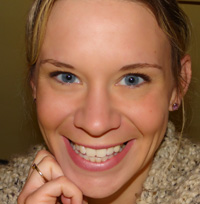 I'm Rachel - a mom, wife, and 'green' blogger at Small Steps On Our Journey. If you want me to come visit your place of business, have any questions on this article or suggestions for a future article, you can email me at rachel@smallstepsonourjourney.com or tweet me at @rachelroland.