Rachel Roland is a mom on a mission - exploring beautiful Arizona with her two little companions, Jeremiah and Sarah, in search of the best restaurants, attractions, and products for you and your children. See what she has in store for your family today!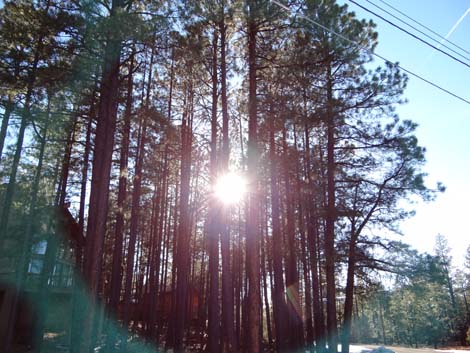 Are you need of a relaxing escape? How about a weekend away surrounded by fresh air, pine trees, and the slow pace that only a small town can bring? You should visit one of my favorite places in Arizona - Pinetop-Lakeside. Recently, a friend and I took the kids up to Pinetop for a little mid-week getaway - and it was lovely!
First, the drive is about 4 hours from Phoenix, and about 4 1/2 hours from Tucson. We traveled via the 60 the whole way up, and it is one of the most beautiful drives I've ever experienced! (You can also drive through Payson, but in my experience this actually takes longer, and while the drive is beautiful, it's not nearly at breathtaking.)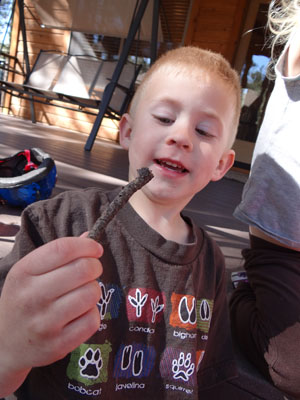 The weather was beautiful when we visited - in the mid-fifties during the day. We did lots of exploring in the wooded backyard - and found a bark beetle! (Can you see him hiding on the the stick?) Naturally, the kids played outside a lot - picking up pine cones, watching the squirrels, bluejays, and woodpeckers, as well as looking for other wildlife.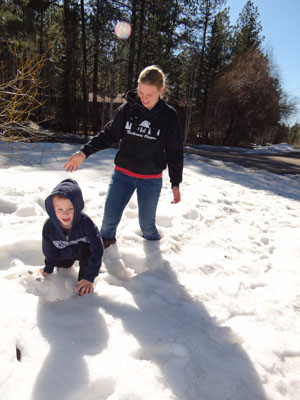 It didn't snow while we were there, but there were still plenty of snowdrifts to check out. My children have never seen snow before - I know, my poor sheltered babies - and of course, they were IN LOVE. They loved it when I sunk in this big drift up to my knees, too. (Me, not so much - I remember why I left Wisconsin!)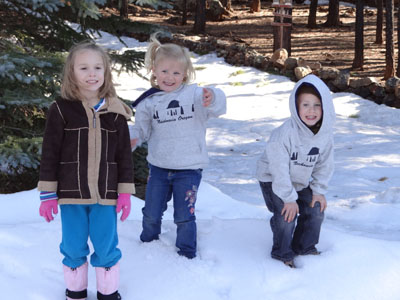 These are the kids - Lily, Sarah, and Jeremiah. They spent at least an hour playing on the snow and ice - they made up games, a 'slide' and had a blast.
Pinetop is a great place to visit in the winter - there are plenty of opportunities to ski and snowboard at Sunrise Park in Greer, about 30 minutes from town. There's a lot of shopping opportunities - small shops with antiques, hand-made items, as well as consignment stores line White Mountain Boulevard, the main street in town. But the best time to come up to Pinetop is in the summer - it's a welcome breath of fresh air during the 110 degree heat. I love Phoenix, but escapes are necessary to maintain sanity with children during the summer!
Pinetop-Lakeside is a nice change of pace from Phoenix - visiting gives you a chance to regroup and relax with your loved ones, or with friends, too!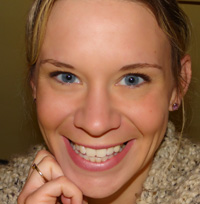 I'm Rachel - a mom, wife, and 'green' blogger at Small Steps On Our Journey. If you want me to come visit your place of business, have any questions on this article or suggestions for a future article, you can email me at rachel@smallstepsonourjourney.com or tweet me at @rachelroland.