Rachel Roland is a mom on a mission - exploring the Valley with her two little companions in search of the best restaurants, attractions, and products for you and your children. See what she has in store for your family today!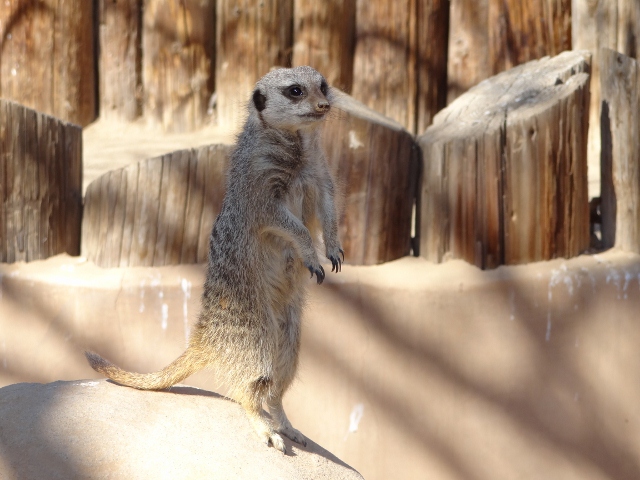 Have you been to visit the Wildlife World Zoo and Aquarium in Litchfield Park yet? We recently checked it out and there was so much to do, we actually didn't get to everything - and we were there for almost 6 hours!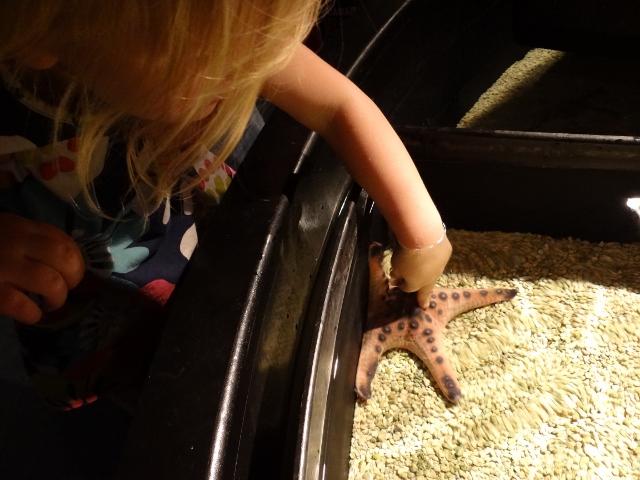 The entrance to the zoo is situated right near the new (and ever-expanding) Aquarium section of the zoo. There are three different aquarium buildings, all with many different exhibits and amazing fish and aquatic life to see!  There are opportunities to touch starfish and other sea-life, as well as a chance to pet and feed stingrays! Both Jeremiah and Sarah were eager to touch the strange looking creatures, and it was a lot of fun.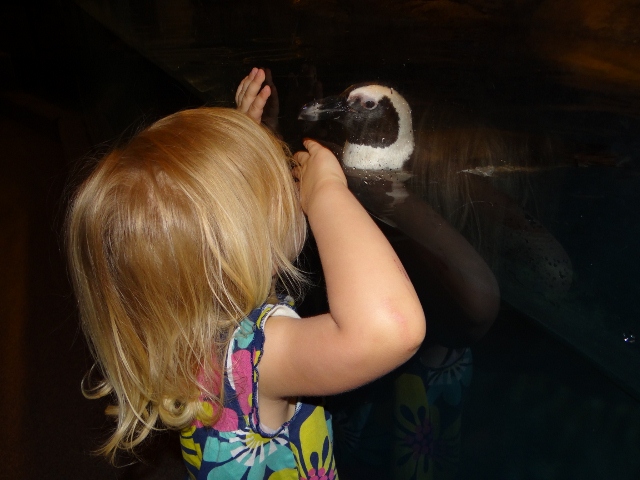 Sarah made a friend, too! This penguin bobbed up and down with through the window. It was really cute to see her interact with the animals!
In addition to the aquariums, there's also a full zoo. They have many birds - white peacocks (which I'd never seen in person), and so many different birds from all over the world - the colors and plumage is simply amazing. I have to admit, though, Sarah struggled with birds. She has a bit of a feather phobia - feathers on the ground absolutely terrify her - so she was ready to move away from the birds as quickly as possible.
When we got hungry, we visited Dillon's Restaurant for lunch. This is located in the predator aquarium building, but you need your hand stamped to re-enter the zoo. It was quite busy (I thought) for a Tuesday afternoon, and we had about a 20 minute wait for a table. Once seated, though, service was speedy and the food was great. We sat on the patio, next to the flamingos, who were quite agitated due to the fighter jets from Luke Air Force Base flying overhead. But they definitely were very active and entertaining!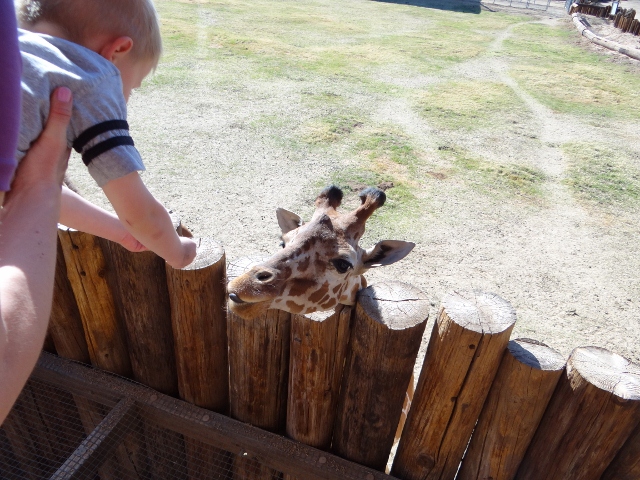 After we refueled with lunch, it was back on the trails. We saw lots of different animals, and they were all extremely active and running around. We also had a chance to feed the giraffes - this is a cute opportunity, so be sure to bring a few quarters for the food vending machine! Jeremiah and Sarah absolutely loved feeding the giraffe, and thought it was hilarious when it would lick their hands. (Yes, be sure to bring hand sanitizer for this one!!)
There are also a lot of rides to entertain at the Wildlife World Zoo & Aquarium. There's an exotic carousel, sky ride, train, Australian boat ride, and the flume ride - a log water ride. We were with family so Jeremiah and Sarah rode with them - the verdict? Sarah hated it (but I think she didn't like being separated from me) and Jeremiah loved it!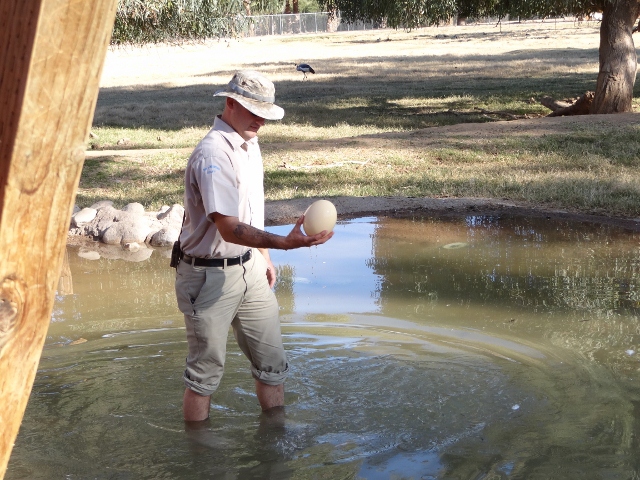 We also rode the train, which takes you through several animal enclosures, so you can be very close to exotic birds and other mammals. While on the train, the driver stopped on a bridge and asked if anyone wanted to take a swim. I thought for a moment there was something wrong with the train, but it turns out the female ostrich had laid an egg in the water! He had to wade out to rescue the egg, and we all got to see an ostrich egg up close. They are humongous!
Overall, it was a lovely day, and the kids and I all enjoyed it.
If you decide to visit, don't forget sunblock, water, and comfortable clothes and shoes. You can rent strollers if you need to at the front gate, something I briefly considered after Sarah asked me to carry her over and over again.
The Wildlife World Zoo & Aquarium is located at 16501 W. Northern Avenue in Litchfield Park. They're open 365 days a year from 9am-6pm.
Tickets are $29 (plus tax) for adults, $14.25 (plus tax) for children 3-12, and children 2 & under are free.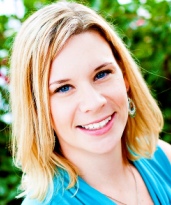 I'm Rachel - a mom, wife, and 'green' blogger at Small Steps On Our Journey.  If you want me to come visit your place of business, have any questions on this article or suggestions for a future article, you can email me at rachel@smallstepsonourjourney.com  or tweet me at @rachelroland.