Rachel Roland is a mom on a mission - exploring the Valley with her two little companions in search of the best restaurants, attractions, and products for you and your children. See what she has in store for your family today!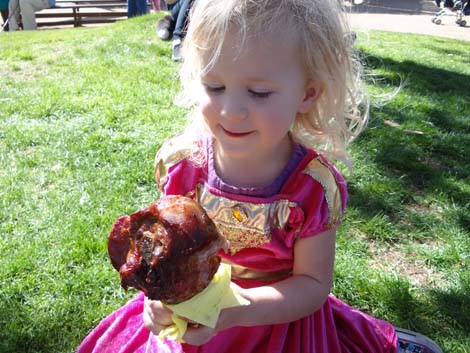 This past weekend was the opening  weekend of the Arizona Renaissance Festival, and we were fortunate enough to visit. Because of it's size, the Arizona Renaissance Festival is located quite far out in the east valley - from the Red Mountain 202 and Pima 101 interchange, it was about a 30 minute drive - and overall, it was almost an hour from our home. I must say, it was well worth the ride!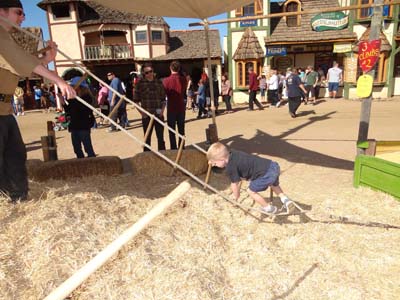 (Jeremiah attempted to conquer the Jacob's Ladder - very difficult!)
We weren't really sure what to expect - I hadn't been to a Renaissance Festival in over 10 years, and that was when I still lived in Wisconsin. I'll be honest - I wasn't really looking forward to visiting at first. Medieval 'stuff' isn't really something I'm into, so I thought I'd feel out of place and weird. That was not the case at all! Sure, a lot of people visiting dress up, and you can even rent costumes at the front gate, if you want, but most everyone was dressed in normal clothes.
There is so much to do, see, eat, and (of course) BUY there! I was amazed at the number of shops - you can spend as little or as much as you want on souvenirs. There were plenty of food areas, with the requisite turkey legs, but also with pizza, fish and chips, chicken, even several coffee shops! Food didn't seem exorbitantly expensive, like I was expecting - turkey legs are $7.50 (and are huge - Sarah and I shared one and couldn't finish it!), and a decent sized basket of french fries were $3. Drinks are also pretty common prices - sodas start at $2, bottled water is $2, and alcoholic beverages range from $5-$10.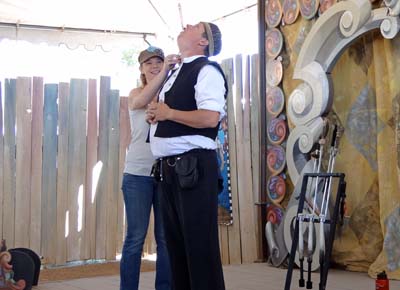 There are also many shows, and we decided to watch the sword swallower - "Thom Sellectomy" (get it? ha ha). At one point, he asked me to come onstage to assist, which was me (attempting) to stick a magnet on his throat after he swallowed a big serpentine sword. First, a disclaimer: I am not the type of person to volunteer for these things. To top it off, the magnet just wouldn't stick! I'm sure it was my fault, due to nervousness, but I can promise any of you sword-swallowing skeptics out there: it's definitely not fake.
All the shows are fun and most are family friendly. When you arrive, you get a map and a schedule of the shows, and anything that might be a bit bawdy is marked with an "LC" for "loose cannon" and I'd (naturally!) recommend avoiding these if you're with little ones. In addition to shows, there are many rides for both kids and adults - from the giant dragon slide, to the huge rocking horse, to the calm toddler butterfly ride - it's easy to part with the $2-$3 per person on these fun rides. There are also street performers everywhere, so even when you're just walking from point A to point B, there's a lot to stop and watch.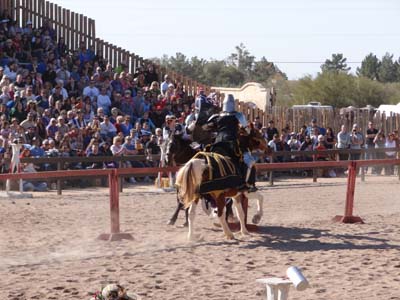 It wouldn't be medieval if we didn't see a joust! The joust tournaments take place at 12pm, 2:30pm, and 5pm. We attended the 2:30 show, and it was exciting. The show ended with the promise of a 'joust to the death' at 5pm, which we didn't get a chance to watch. Depending on what section you sit in, you cheer for a specific knight, and have a cheerleader of sorts who encourages you to taunt the other knight's fans. We all had a great time cheering for our black & yellow knight.
Overall, we had a great day at the Arizona Renaissance Festival. I do have a few recommendations:
- The Festival is open from 10am-6pm, and I'd arrive closer to 10am. There's so much to see and do, you'll want at least a good 3-4 hours to spend there.
- SUNBLOCK! Don't forget it. There's shade, but most of the time you'll be out in the sun. Don't forget to reapply every 2 hours.
- Water! We brought four big reusable water bottles with us and we didn't have to buy more water while we were there.
- Clothes! Dress comfortably. Ladies, do not wear your super cute shoes and clothes. You'll do a lot of walking and it's dusty, so unless you want those shoes covered in dirt, leave them at home!
The Arizona Renaissance Festival is located at 12601 East Highway 60, Apache Junction AZ 85118. Admission at the gate is $22 for adults, $12 for children age 5-12, and children under 5 are free. You can also purchase tickets at Fry's Food stores, as well as purchase them online visit.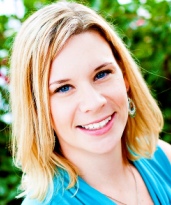 I'm Rachel - a mom, wife, and 'green' blogger at Small Steps On Our Journey. If you want me to come visit your place of business, have any questions on this article or suggestions for a future article, you can email me at rachel@smallstepsonourjourney.com or tweet me at @rachelroland.