Rachel Roland is a mom on a mission - exploring the Valley with her two little companions in search of the best restaurants, attractions, and products for you and your children. See what she has in store for your family today!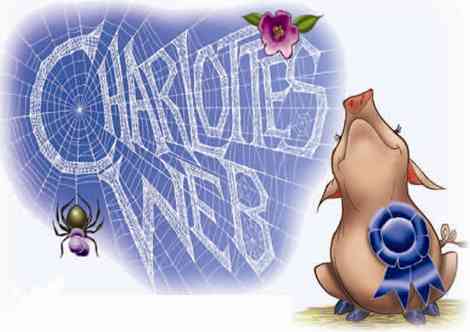 I don't know about you, but I remember reading Charlotte's Web as a child and sobbing my little heart out when (SPOILER ALERT) Charlotte passed away - but this timeless tale of friendship between a pig and a talking spider stayed in both my heart and mind. Recently, my husband and I read this book with Jeremiah - a chapter before bed. And guess what? I cried...again. Then we watched the movie...and I cried....AGAIN! I'm slightly sentimental, it seems.
Our family had the opportunity to see Charlotte's Web at the Valley Youth Theatre and we loved it!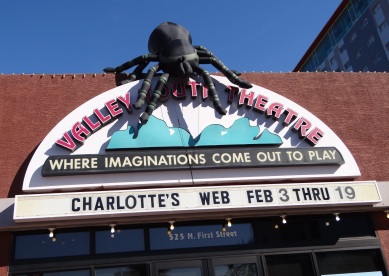 The kids knew we were going to see Charlotte's Web, and when we got to the Valley Youth Theatre on 1st Street, they were thrilled to see the giant spider that had taken up residence on the building. There was also a 'petting zoo' next to the theater with two pigs - one named Charlotte, and the other Charlie - that Jeremiah and Sarah loved saying 'hi' to!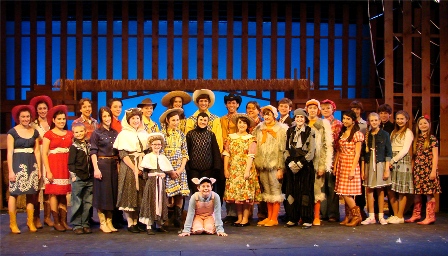 (The cast of Charlotte's Web, photo courtesy Valley Youth Theatre)
The show was great - all the actors are children, which makes it even more impressive. It runs about an hour and a half, with an intermission at about 45 minutes. Wilbur was played by the adorable Sam Primack - he brought the sweetness and innocence of the little pig Wilbur to life. The rest of the barn cast - the Goose, Gander, Sheep, and Little Lamb, were great compliments, as well.
My personal favorite? Templeton (the rat), played by Aaron Zweiback - in a show without a definite villain, Templeton is the antithesis of Wilbur and Charlotte  - pessimistic, slightly obnoxious, and selfish - and Aaron played this part to a tee! When I talked with the kids about the show, Jeremiah brought up 'the rat' and I said: "He was so good, wasn't he?" and Jeremiah responded with that "Mom, what are you talking about?" look. It was a good opportunity to discuss that the person playing the role of Templeton wasn't actually mean or nasty, he was just acting.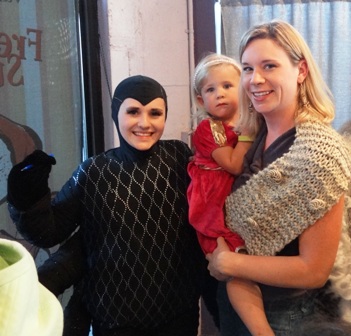 Charlotte is played by Hannah Blaile, and she delivers a beautiful performance. Don't be surprised if your children want to start making friends with spiders after seeing this show - she is sweet, caring, and loving in a maternal way towards Wilbur - not a performance once typically expects from a high school student.
After the show, the cast is available for photos and autographs - "Wilbur" signed Jeremiah's program and it has become quite the prized possession in our home.
I loved visiting Valley Youth Theatre, and you should absolutely take your family to see Charlotte's Web - tickets are $20 per seat. You can purchase tickets by calling the box office at 602-253-8188 x2, or you can purchase online here. You'd better HURRY though - this show only runs through February 19th.
Oh, and did I cry? Yes, yes I did. It's that line - "No one was with her when she died." - it gets me every time! I didn't bring tissues, but you might want to if you get a little weepy.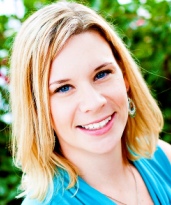 I'm Rachel - a mom, wife, and 'green' blogger at Small Steps On Our Journey. If you want me to come visit your place of business, have any questions on this article or suggestions for a future article, you can email me at rachel@smallstepsonourjourney.com  or tweet me at @rachelroland.