Rachel Roland is a mom on a mission - exploring the Valley with her two little companions in search of the best restaurants, attractions, and products for you and your children. See what she has in store for your family today!
As I may have mentioned in the past, we go out to eat...often...with our children. I'm very thankful that we're able to go out and enjoy a meal with our children. Are they always perfectly behaved? Not at all! But I have some handy tips that will help you if you're wary of dining out with your children.
1) Start small. If you've never (or hardly ever) taken your child out to eat, start with a very, very casual restaurant. This will be the only time you read me endorsing fast food - but a fast food restaurant is the type of place I mean. Resist the urge to sit by the 'play area' if there is one - you want to work on proper table manners, and the play area should be a reward. Encourage using a napkin, sitting properly, and using manners. Make it as similar to dining at home as possible.
2) Once you feel more comfortable with dining out with your children, then go for it! But plan accordingly. Don't go to a busy lunch place with an already starving child - it will make both your experience, as well as other diner's experiences, go poorly. I usually say go about a half hour before normal meal times, to give yourself enough time to wait for food, if necessary.
3) Have your children decide what they want to eat first, and, if possible, order their food first. Sometimes, the children's food is burning hot, and if it comes out along with your meals, it will be too hot for them to eat. I don't mind the kids eating before my husband and I - they are typically slow eaters and are still eating when our meals arrive.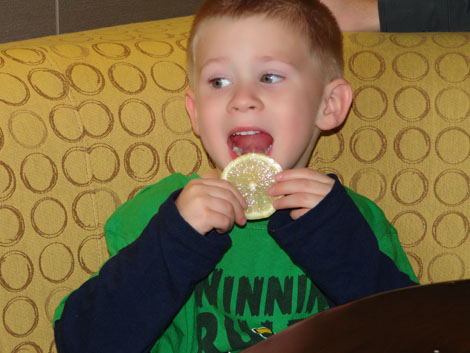 (A little lemon from our waters never hurts, either!)
4) Keep technology off the table! This goes for parents as well as the kids. I know it's hard to resist that DVD player or a game on your phone to keep your child busy, but meal times should be focused on family time, not electronic entertainment. I have to consciously put my phone away - after all, it's fun to check in on Yelp, or update my Facebook, or (of course) see what's happening on Twitter, but it's also important to spend time with my family.
5) Take a deep breath, and relax! Your children might get messy, as well as make a mess. Don't stress about this too much during the meal, but be sure to be courteous and clean up so your servers don't have an excessive mess to deal with. If your child starts to become disruptive, (yelling, crying, etc), please remove them from the restaurant so other diners can still enjoy their meals and return when your child has calmed down. If there is en epic meltdown, there's nothing wrong with getting your food to go either! Trust me, it's better to enjoy restaurant food at home then struggle through a meal with a child having a difficult time.
So, what are you waiting for? Get out there and try some of the great restaurants Phoenix has to offer - WITH your kids!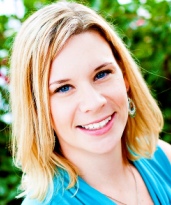 I'm Rachel - a mom, wife, and 'green' blogger at Small Steps On Our Journey. If you want me to come visit your place of business, have any questions on this article or suggestions for a future article, you can email me at rachel@smallstepsonourjourney.com or tweet me at @rachelroland.