Rachel Roland is a mom on a mission - exploring the Valley with her two little companions in search of the best restaurants, attractions, and products for you and your children. See what she has in store for your family today!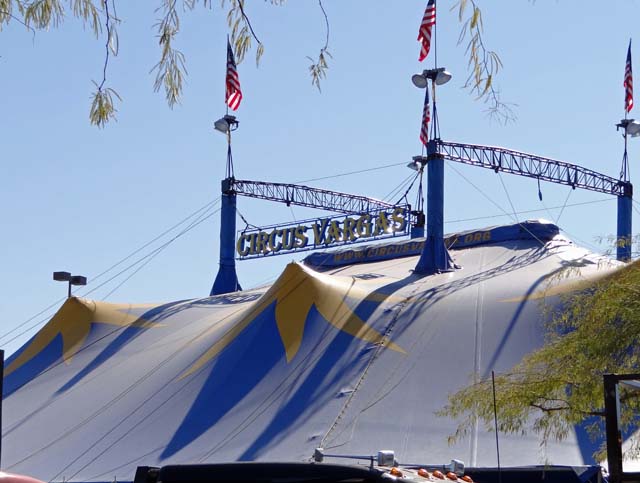 Who else has childhood memories of the circus? I know I do, but those memories are very, very faint and almost ancient history (ha ha). Our family had the opportunity to sit ringside at the old-fashioned Big Top Circus Vargas and it was quite the experience!
This is a throw-back to the travelling circus of days gone by - Circus Vargas sets up their Italian-made theater-style Big Top tent in an unassuming parking lot (for us, it was at the Arizona Mills mall). It can seat up to 1500 people - and when you step inside, you feel transported not just far away from the present day, but far away from the busy city, as well.

Circus Vargas is all human entertainers - no dancing elephants or tigers - and it was amazing to see what the human body is capable of with proper training and determination. Pictured above is Jon Weiss, who I'm convinced can balance anything on his chin. Jeremiah and Sarah were captivated by the things he could balance - I won't give it away, but let's just say they are all heavy and awkward objects that I was amazed he could even lift, much less balance on his face!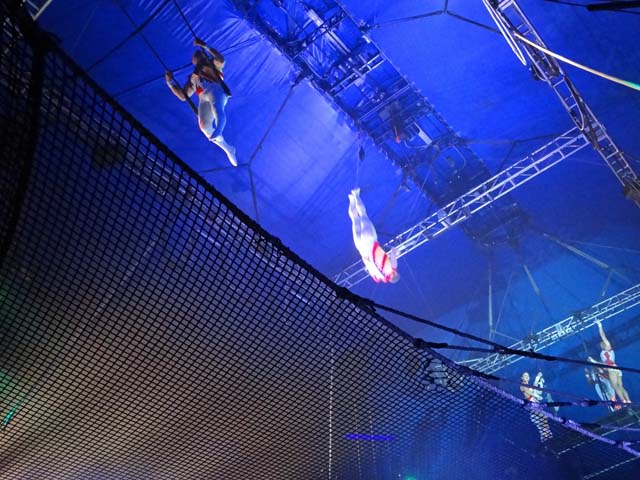 We were ringside and a bit off to the side, so when it came time for the Flying Tabares trapeze show, we were directly underneath. Talk about breathtaking! After the trapeze show, they need to take the safety net down, so the clown (who is not scary, by the way), asked for volunteers from the audience. If you're not afraid to be in front of an audience, I think you'd love to volunteer - it was very funny. There is a lot of back and forth with the performers and the audience - so don't be afraid to participate!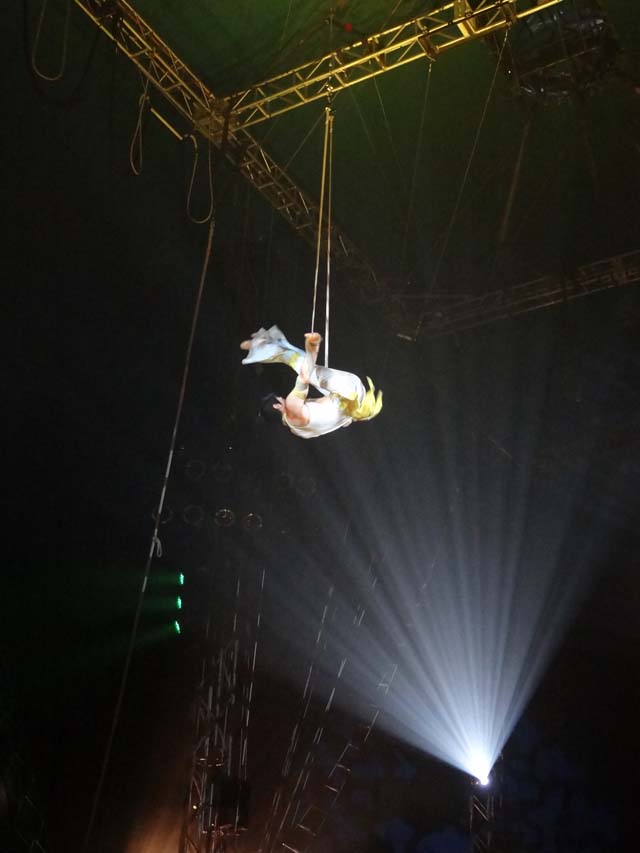 This is Victor Kim, who flew through the air and was only secured by ropes around his wrists. Another astounding feat of human strength and agility - along with the Zinduna Brothers, who show off their acrobatic skills, and the final act - the Garcia Family (which had me gasping and cringing!) - this circus has it all!
So, if you want your children to experience a real Big Top show - check out Circus Vargas! They have shows running at Arizona Mills until February 6th and then at Metrocenter Feb 9th-13th. Then they return to California, and who knows when they'll be back in Phoenix again!
Tickets range from $50 for an adult ringside seat to $25 for an adult bleacher seat. Children are $35 for ringside and $15 for bleacher - and the views are great from any seat in the house. (Though the ringside seats were incredible!) You can purchase tickets on-line here and they also have VIP tickets that are available by phone only: 877-468-3861.
Circus Vargas has wants to offer my readers a chance to win their own family four-pack of general admission tickets to a show of their choosing (subject to availability)! There are four packs of tickets available - and all you have to do is email me at rachel@smallstepsonourjourney.com with the subject line "Circus Vargas" to be entered!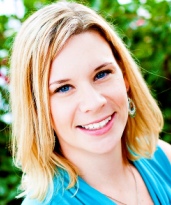 I'm Rachel - a mom, wife, and 'green' blogger at Small Steps On Our Journey. If you want me to come visit your place of business, have any questions on this article or suggestions for a future article, you can email me at rachel@smallstepsonourjourney.com or tweet me at @rachelroland.