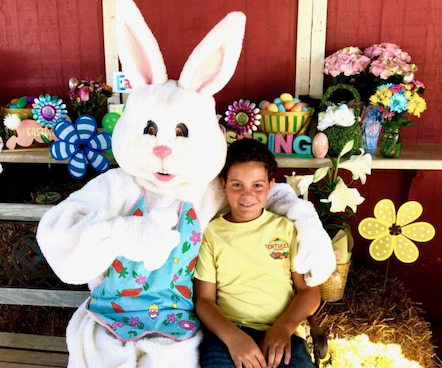 Join Vertuccio Farms for Some Spring Time Fun at Their Easter-Eggsperience on the Farm.
Gates open from 8am to 2pm.
This fun filled day will include an egg hunt, Easter craft time, pictures with The Bunny, and unlimited play on all the farm play structures. The farm will also have concessions available, specialty vendors to visit, and a pancake breakfast for additional fees.
Farm Play Structures:
Jump Pads

Giant Tube Slides

Hay and Tire Climb

Giant Hamster Tube-Rolls

Pallet Maze

Water Pump Duck Races

Ping Pong

Corn Hole

Animal Petting Area and Gardens
There will be 4 hunts held throughout the day and each hunt will have 3 areas for specific age groups. This is to ensure safety and enjoyment for all kids.
Whistle blows for hunts promptly at 9:30am, 10:30am, 11:30am, and 12:30pm. So please make sure you arrive with time to park, check in and get to the hunting area. They will announce a 15 minute warning to head to hunt and line up if you are playing on the farm.
Hunt Age Groups:
3 yrs and under.

4 Years through 7 yrs:

8 yrs and up
You will have the option to buy your time slot and age group when you buy your ticket online. No older kids will be allowed to hunt with younger age groups. If you wish for all your different aged children to hunt together in same group, you will have to buy all your tickets in the 8yrs and up group. Younger children are allowed with older sibling group.
Adults and infants under 1 yrs of age are free with a paid child admission. All children 16yrs and under need admission to enter the farm. Please visit our COVID-19 Policy before you decide to join us.
For more information, please visit: https://www.vertucciofarms.com/events/easter-eggsperience