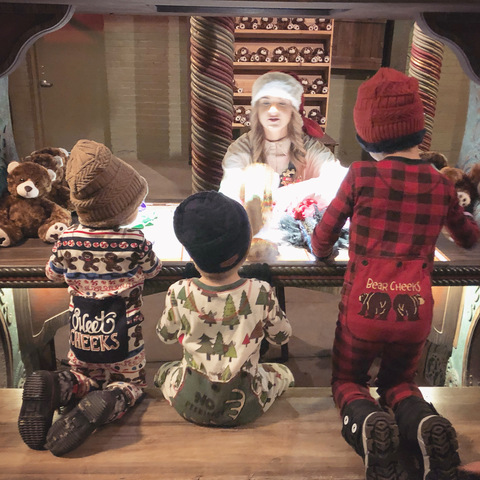 We just returned from the North Pole. For real. We journeyed through a portal that magically transported us to the North Pole within minutes, arriving at Santa's Workshop, befriending elves, making toys, eating donuts made specially from Mrs. Claus, and meeting the big man himself. My three boys under six endured the experience with awe and amazement.
Here's what you need to know about taking the trek to the most sought-after Christmastime destination.
1. Get your tickets early
The experience books early and books fast. The experience runs daily in December, and available for a number of time slots, but don't be surprised if you see SOLD OUT if you wait too long.
2. Wear PJs
Get in that corny Christmasy spirit and buy those matching family pajamas. Many people- kids and adults included- wear pajamas on the expedition (my pick: LazyOne onesies), but make sure to bring additional snow clothes- jackets, gloves, boots and beanies… the North Pole can get chilly!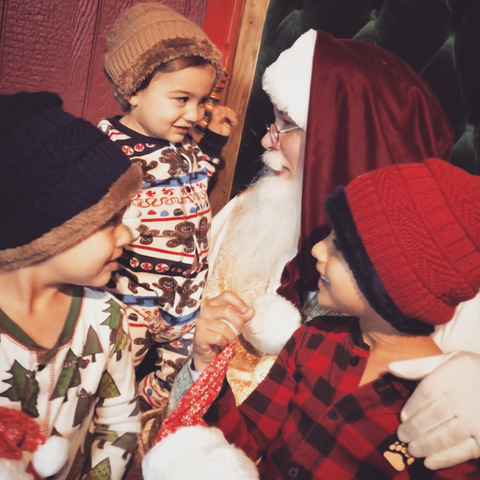 3. Stay at the Little America Flagstaff
It's the ultimate in convenience and will solidify the entire experience. The property is cozy and adorable and dressed in many sparkling lights for the season. The best part: The North Pole Experience departs directly outside the hotel! (Again, reserve early… this too, books up.)
4. Eat first
There's a great restaurant at the Little America Flagstaff that offers a great kid's buffet perfect for pre-North Pole noshing. Don't embark on the journey with an empty tummy- you'll want to feel energized and ready to take on Santa's Workshop.
5. Take age into consideration
My kids are 6, 4, and 2. They all had a wonderful time, but in different ways. My 6-year-old was totally into it, answering every question, dancing with elves, and really truly participating. This, while my 2-year-old was most interested in the toy train and donuts.
6. You arrive via trolley, and it leaves on time
Don't miss your trolley (ok, it's actually a charter bus). The departure times are totally on point, and the ride to the North Pole is quite exciting. There are some flashing lights (nothing over the top) and a televised portal that shows you going through the Northern Lights.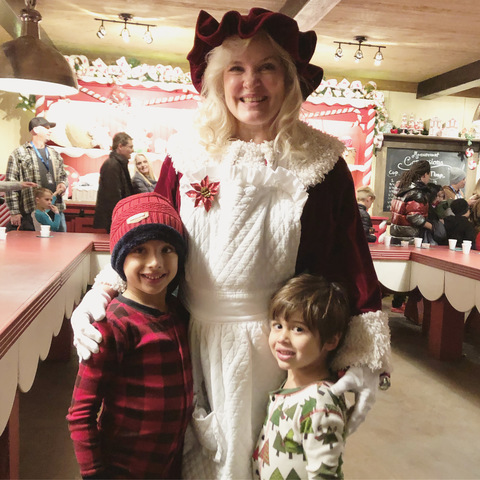 7. Upon arrival, you journey through an array of themed rooms
Without too many spoilers, the North Pole Experience is full of magical fun. There's a workshop where you help make toys, a shipping depot where you help load, a delicious visit from Mrs. Claus, a lesson at Elf University and an intimate photo opp with Santa (all pics are digitally included in your ticket price). Your kids even get a special gift from Santa.
8. Strollers are allowed
Thank goodness. And elves help load them into the bus.
9. Check the weather beforehand
Flagstaff in December is hit-or-miss when it comes to snow. You might get a full-on snowy experience or endure a brisk, sunny blue sky. Either way, prep for anything.
10. Charge your phone
You'll be snapping pics the whole time! Or if you're really into it, bring a professional camera. Photos are encouraged and allowed the whole time.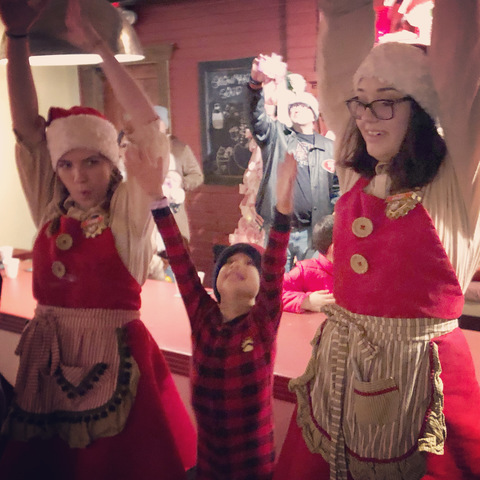 Nadine Bubeck is a TV personality, fashion designer, author, blogger, and Scottsdale-based blessed boy mom.