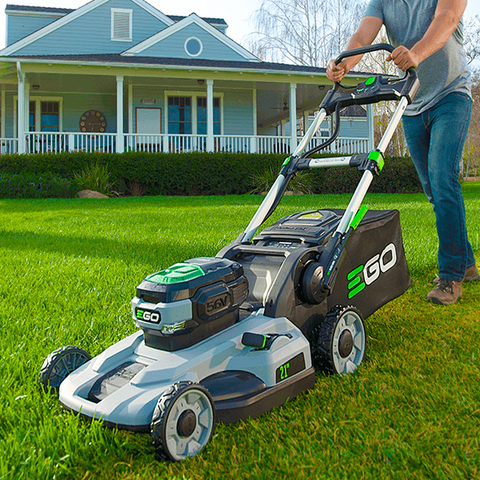 Do you join me in getting your hubby briefs and socks for every Father's Day. I know… boooorrrrinnnggg!!! This year, I'm trying to think outside the box- things he'll appreciate, use, and enjoy.
For the dad who tends to the yard, gift him something you know will make him swoon: the EGO 21" Self-Propelled mower. Yes, we all know dads go gaga over equipment, and this bad boy will make his heart skip a beat. The mower is equipped with Peak Power™ Technology, combining the power of any 2 EGO batteries for longer run time and efficient power draw. The push start button provides a quick and easy start, while the self-propel speed control allows you to power through tough terrain. It folds easily for storage, and flaunts a sweet, sleek design.
These men's waterproof hiking sandals adapts to your feet for the perfect fit. Made of innovative construction, they're ideal for dads on the go. The lightweight midsole delivers durability and comfort, while the higher-traction rubber outsole keeps your step secure. Open vents in the waterproof leather provide breathability, and their built for rugged terrain. The best part? Twin! Yep, Keen shoes are available for women and kids as well.
Consider this a new way to carry your kid. Does your little one prefer riding on dad's shoulders? MiniMeis gives kids a bird's eye view, while providing comfort to the carrier (AKA: dad). It's the ultimate shoulder-carrying device; your child sits firmly on your shoulders, strapped in with a 9-point seat belt. Unlike traditional carrying devices where you carry your kid on your back, this enables you to stand longer and walk longer without being tired. Flaunts a compact fold and safely secures ages 6 months-5 years. Safe, sound and satisfied!
Great for working dads, traveling dads, and dads who don't like to cook. HotLogic is a glorified lunchbox; a portable carry that cooks meals AND keeps food warm. (No joke... it cooks food from scratch or reheats leftovers!!) The sack uses patented smart cooking technology, ensuring the food cooks evenly.
The California Wine Club offers a delectable Signature Series membership, ideal for vino enthusiasts and collectors. Every month you'll get two highly rated, handcrafted and hand-selected wines… You'll also score access to the club's wine consultants, and a VIP winery tasting invitation.
Finally, gift dad a cool way to stroll. Keenz is a fab stroller wagon that's durable, good looking and can be pushed or pulled. It's allowed in many amusement parks and zoos, and safely fastens two kids. The kicker: dad will love that it comes equipped with a cooler and canopy! Plus, the company recently debuted all-terrain wheels for easy strollers in rugged terrain (including the beach).
In case you're in the mood to splurge, ifOnly offers extraordinary experiences for your favorite guys. The site showcases once-in-a-lifetime opportunities for all interests… dad can sail with America's Cup Champions, soar over San Francisco in a sunset seaplane, or attend Quarterback Camp with a former NFL Super Bowl champ. There are tons of excursions to choose from; sure, they come with a pretty price tag, but the memories will last forever.
Dad's all about being papa bear and protecting his family; why not secure the latest and greatest smoke alarms to hit the market? Be the first to pre-order Safer Alarms. They're not smoke detectors; in fact, the compact and easily applied heat sensors detect fires where they are most likely to occur – at an outlet. This is the first most innovative fire alarm system in the market that alerts faster and detects at closer proximity, all while eliminating an increase in nuisance alarms. (And it's founded BY A DAD!)
In case dad wants something super practical, get him a gift card against the Starbucks cliché. What father wouldn't want some mula to spend on backyard BBQ bliss? Gift dad a credit to Smart & Final- he can stock up on steak, sauces, sides, and something to sip on. It's a one-stop shop for dads who find peace in the kitchen.
Nadine Bubeck is a TV personality, fashion designer, author, blogger, and Scottsdale-based blessed boy mom.