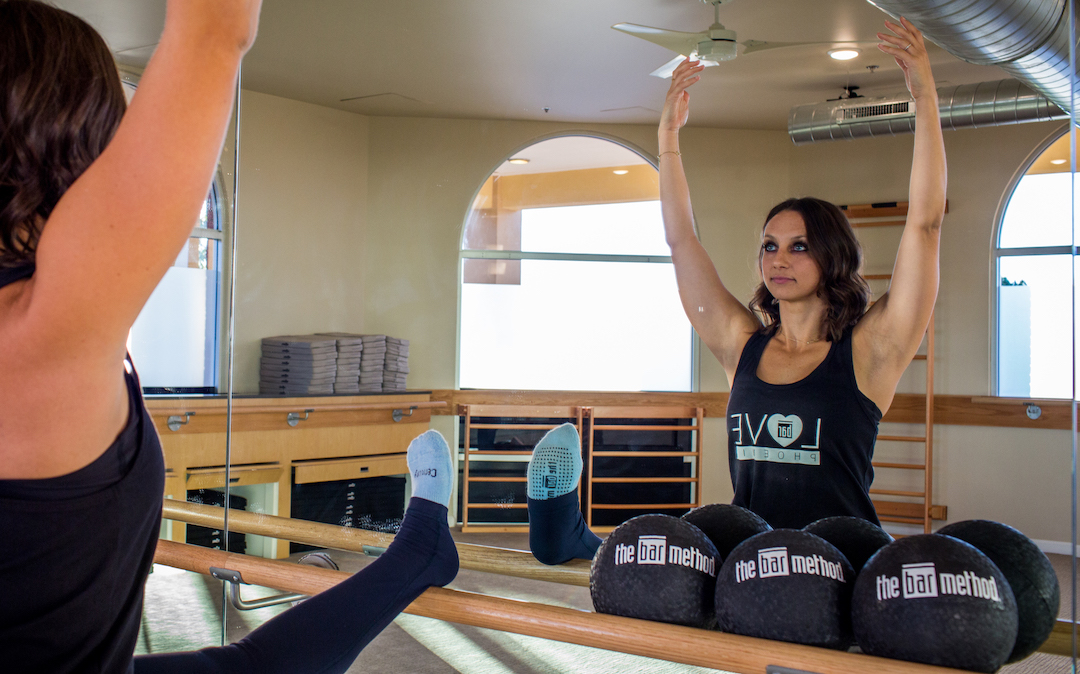 When Burr Leonard, founder of The Bar Method, lived in New York, she dreamed of creating her own barre method workout that would empower women and men. To achieve her goal, she worked with physical therapists and developed a bar method fitness that helped to build beautiful, lean, toned and healthy bodies for life.
In 2001, she opened her first studio in San Francisco, Calif., and soon after, more studios opened in New Jersey, Chicago and New York. She started a new concept of exercise and designed a safe, personal and challenging technique for people of all ages and levels.
Today, there are more than 100 studios across the U.S. and Canada, and Arizona boosts its own in Phoenix. Elissa Scannell, owner of Bar Method Phoenix, opened a studio in December 2016, marking it as Arizona's first Bar Method.
Before opening up the studio, she lived in D.C. for 10 years, and tried her first barre class as her personal workout. Eventually, she started teaching it as a hobby. When she decided to move to Arizona, she said she could not imagine living in the state without a barre method studio.
The point of the workout, that benefits both genders equally, is to burn fat, reshape muscle, improve posture and confidence. Barre Method is a full-body workout, Scannell says, that focuses on muscles that tend to get ignored in a regular workout.
Scannell says the first change that many people notice is an increase in flexibility. During the workout, class participants work a muscle group, warm it up, and then stretch it to form learn, dense muscles.
The typical one-hour workout starts with a warm-up, upper-body exercises and push-ups, followed by a set of leg and seat work at the barre and core exercises on the floor. Each class aims to work the right muscles in the right order to maximize results.
According to Scannell, Barre Method has become one of the new fitness trends because people love how they feel at the end of the workout.
"You immediately start to feel stronger and you see results quickly, because it is a thoughtful, targeted form of exercise," she says.
Rebecca Irwin, who attends barre classes in Phoenix, says the Bar Method has changed the way she thinks about working out. She found a workout that was equally enjoyable and challenging for her, and helped her to recover from a bad car accident. She thought she would never be able to attend a barre method class, but she was quickly drawn to it again. The parts of her body that she believed would hold her back were the parts that benefitted the most from the workout.
"I'm doing it to be the best version of myself; I'm doing it to celebrate the life I almost lost and honor the body I have, as much as it still feels broken sometimes," Irwin says.
Irwin is also deeply grateful for the ceaseless support of the staff and instructors in Phoenix, that have welcomed her and treated her as a unique individual worthy of their time.
Scannell says the instructors call participants by their names, make sure they are in good alignment, maintain good posture and work the right muscles.
"You form a connection to the Barre Method; you have people that care about you and know you as well," she says.
What she loves the most about teaching barre is being surrounded by a supportive community of people.
She says, "I love helping people find new limits, push themselves to work harder, and see changes mentally and emotionally."
More information about Barre Classes is available by visiting https://barmethod.com