Page 1 of 2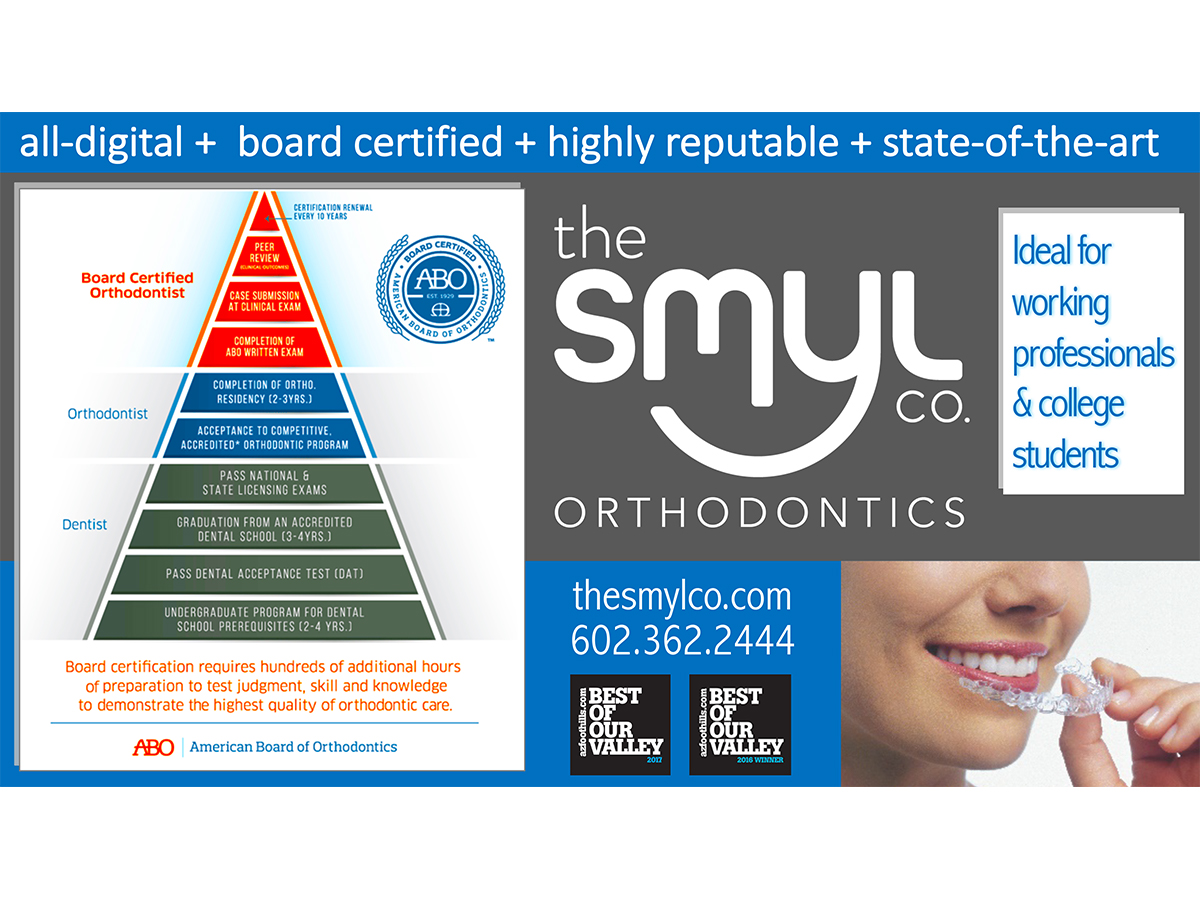 For over 30 years, families have been entrusting their orthodontic treatment to the orthodontists of Smyl Co.  While Smyl Co is a brand new all-digital, state-of-the-art orthodontic office in downtown Phoenix; thousands of families have known them as the orthodontists of Affiliated Pediatric Dentistry and Orthodontics (APDO). Don't worry APDO patients, the opening of Smyl Co. does not mean Drs. Bruce Goldstein, Michael Feinberg, and Tal Masserman are going anywhere they are committed to diligent and innovative patient coordination and scheduling so that they can still offer their patients at all locations the exceptional care that they have become known for.
Unlike APDO, Smyl Co. is only orthodontics, specifically adult orthodontics.  "Parents have entrusted us with their children's orthodontic treatment, now it's the parents turn to have the smile they've always wanted", said Dr. Bruce Goldstein. Smyl Co. utilizes the latest technology to feature: the most aesthetic options, shortened length of time in treatment, lengthened amount of time between appointments, minimum patient discomfort, and optimal results. "Additionally, our adult patients appreciate, that while their dentist may offer products like Invisalign, orthodontic treatment is a specialty that requires focus, education, and experience beyond dental school" said Dr. Michael Feinberg.
Orthodontist vs. Dentist for Straightening Teeth
Many dentists are now offering Invisalign, so why not just use them? Why go to an orthodontist? Only about 5% of dental professionals go on to complete the additional education required to become orthodontists; and only 1.7% go on to become board certified by the American Board of Orthodontics, according to the U.S. Bureau of Labor Statistics.
After completing an undergraduate pre-dental bachelor's degree, every dentist and orthodontist completes a four-year dental school program to become a Doctor of Dental Surgery (D.D.S.) or a Doctor of Dental Medicine (D.M.D.).  Orthodontists then go on to complete an additional two or three-year orthodontic graduate program to obtain a Masters of Science (MS) degree in Orthodontics.  For dentists to offer Invisalign, all they have to do complete a mere 10 continuing education hours.