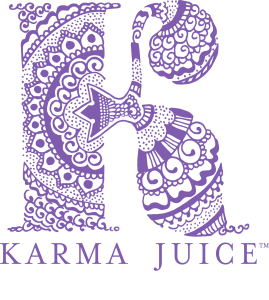 "Juicing" is a term that has taken the health world by storm. Whether you are all about regular juice cleanses, or just enjoy a cup of fresh juice once in awhile, you know that juicing is all the rage. We connected with David Ventura, founder of local Karma Juice to get all the details on juicing and how Karma Juice can help you reach your 2017 health goals!
The Story Behind Karma Juice
David had been juicing for five years before starting Karma Juice and both he and his partner experienced "amazing life changing results" from it, including David's partner losing 75 pounds. David said they were so excited about juicing that they "both wanted to shout it out from the top of every mountain and [thus] Karma Juice was born!"
Benefits of Juicing
We have all read somewhere that juicing is supposed to be fabulous for us, but do you feel you truly understand how and why juicing is beneficial to our bodies? David explained the benefits of juicing to us: "A juice cleanse is a detox, it's a way to set your body clock back to zero. By flushing your digestive system with organic nutrient-rich juices and protein shakes, you are able to shed toxic weight and destroy a lot of the bacteria that we hold in our guts on a daily basis."
Sounds pretty incredible, right? However, admittedly, the thought of having nothing but juice for 3 days (which is Karma Juice's most popular cleanse package) is a bit scary. But David says not to worry. "My advice to anybody looking to do a juice cleanse would be to just do it." The results that David saw as a result of his first juice cleanse six years ago completely changed his life.
And he has worked to make Karma Juice's juice cleanses be equally as transforming for you! "By incorporating delicious protein smoothies into our cleanses, anybody can enjoy the process." Karma Juice juice cleanses are full of all the vitamins you need so you won't be left feeling completely exhausted and reaching for solid food mid-cleanse.
Juicing with Karma Juice
The majority of Karma Juice's ingredients are locally sourced from organic farms across the state of Arizona. "We pride ourselves on sourcing the freshest organic ingredients available to us. Because at the end of the day, food is our medicine, and the safest and best medicine we can put in our bodies," says Dave.
If you're feeling moved to give juicing a try for the first time, or to experience a new cleanse with Karma Juice, Dave suggests their most popular package - the 3-day juice cleanse. Included in this cleanse is:
9 organic smoothies

9 organic juices
Karma Juice has their customers cleanse use 3 organic cold-pressed juices as well as 3 protein shakes a day, with lots of water to boot. The protein shakes are not something you always see with juice cleanses, so we asked David why he added those in. "We have found that by adding the protein shakes to our cleanse we still achieve the same cleansing results, but also feed your muscles the protein they need so they don't atrophy, and [so] that you can stay active throughout the cleansing process."
And did we mention that Karma Juice delivers? Talk about convenience! By calling in your order or placing your order online, you will have your juice delivered right to your front door the next day in a cooled bag.
Karma Juice is currently offering a special exclusively for AZFM readers: mention this story and receive the signature 3-day cleanse with delivery for just $150!
For more information on Karma Juice and juice cleansing, check out Karma Juice's website here.