In honor of Prostate Cancer Awareness Month, the medical professionals at Scottsdale Healthcare share the latest innovation in prostate
cancer treatment.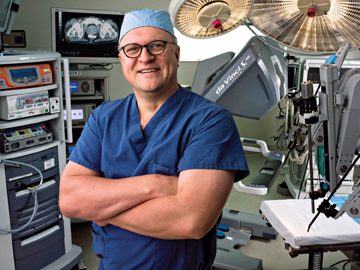 Scottsdale Healthcare Urologist Bernard Gburek, M.D.
You know your guy isn't going to the doctor unless he's deathly ill, and maybe not even then. So, ladies, it's up to you to make sure he schedules an annual physical with a primary care physician. September is Prostate Cancer Awareness Month, and now is as good a time as any for a reminder that you don't want him to be "The One"—as in, the one of every six American men who gets prostate cancer in his lifetime.
To put this into perspective, look around next time you go to a party or a club. See those 18 men? Three of them have had or will get prostate cancer in their lifetime. It's the most common cancer in American men other than skin cancer. Without early diagnosis, one in 36 will die from the disease.
But there is good news: More than two million American men who have had prostate cancer are still alive today. Why? With early detection through regular screenings, skilled physicians, like those on staff at Scottsdale Healthcare, can catch the disease at an early stage when it's highly treatable.

Paging Dr. Roboto
Treatment options for prostate cancer are now better than ever before. At Scottsdale Healthcare, experienced surgeons are using the daVinci surgical robot for minimally invasive procedures to remove cancerous prostates with keen precision. "The benefits of this technique are impressive," says Scottsdale Healthcare urologist Gil Brito, M.D. "Hospital stays are generally shorter, and patients experience less pain and scarring, shorter recovery time and fewer complications."
Scottsdale Healthcare has the longest experience with the daVinci surgical robot of any Arizona hospital, acquiring the state's first daVinci in 2001 and performing Arizona's first daVinci robotic prostatectomy in 2002. The robot's pencil-thin, high-tech instruments are inserted through tiny incisions into the patient. The surgeon sits at a digital console and views a magnified 3-D, high-definition image of the surgical field. As the surgeon makes movements at the console, the robot's instruments correspond, allowing the surgeon to operate in real-time more precisely than standard surgery.

Don't Risk the Odds
"Common sense shows that screening saves lives," says Scottsdale Healthcare urologist Bernard Gburek, M.D. He recommends screenings starting at age 40 if you have a family history of prostate cancer or age 45 if not.
Have the man in your life schedule a screening exam (or schedule it for him) with a primary care physician at Scottsdale Healthcare. If follow up is needed, many of Arizona's leading specialists are on staff at Scottsdale Healthcare hospitals.
TO LEARN MORE:
Scottsdale Healthcare Robotics Institute
480.323.1255, shc.org/robotics; shc.org/cancer.