It's just so easy to get in trouble while you're having a good time.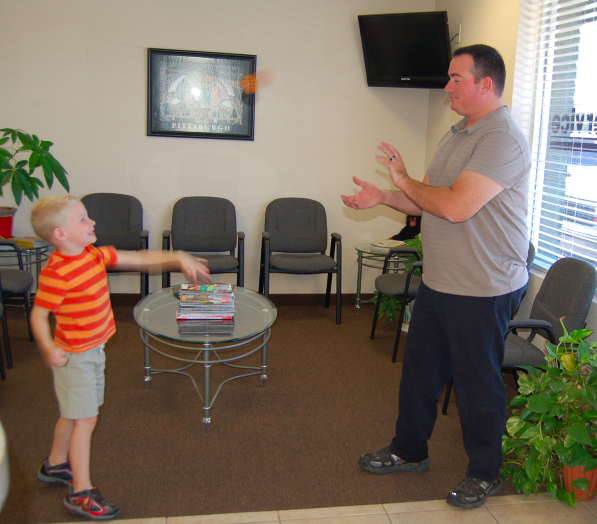 Ask Mike Baker. The affable Phoenix tax preparation professional was just out with six buddies, having a "guy day" offroading in his Ranger Utility Terrain Vehicle in the desert outside Wickenburg when the unexpected happened.
"I was in the passenger seat while we were driving up a steep hill when the UTV flipped backwards and then sideways," he said. "There's no door and the vehicle rolled over my foot, crushing it."
The friends he was with lifted the UTV off his foot, put him into a nearby truck and rushed him to the Wickenburg hospital. Emergency Department physicians evaluated his injury and called for a med-evac helicopter to fly him to the Level I Trauma Center at John C. Lincoln North Mountain Hospital.
There he was greeted by the trauma team that included orthopedic trauma surgeon Laura Prokuski, MD, and reconstructive plastic surgeon Lloyd Champagne, MD.
"My part of the trauma care was fairly simple," Dr. Prokuski said. "Mike had a fractured metatarsal, the long bone in the foot. I cleaned up his wound and fixed the fracture. Where it got complicated was the tissue damage to his heel."
Baker's heel was virtually stripped from his foot. "I see these types of injuries in motorcycle crashes," Dr. Prokuski said. "The fibers attaching the heel tissue to the bone were ripped away; in effect, his heel was skeletonized."
Most folks don't know how specialized a human heel really is, Dr. Prokuski said. "The tissue cushioning the heel bone is unique in the body," she said. "It is very tough, very durable, and it is connected to the heel bone by a series of tendons which prevent the heel tissue from slipping, no matter what kind of motion the body is in. At the same time, the tissue has an abundance of nerve fibers so it is very sensitive. That makes it possible for a person to instantly become aware of anything hazardous to the feet."
Because the heel tissue is unique, however, it cannot be replaced with tissue from almost any other part of the body. "Other tissue doesn't have the same properties as heel tissue. It is not as sturdy, so under pressure of walking, it tends to break down," Dr. Prokuski said. "Also, it is difficult to replicate the tendon attachment system that normally holds heel tissue in place, and that means the replacement tissue is more likely to slip out of position."
But Dr. Champagne has handled other reconstructive surgery challenges, and rather than amputate Mike's foot – which had been considered when his injury was first assessed – he thought he could rebuild and save it.
"This was a pretty amazing process," Dr. Champagne said in late June of this year, 18 months after the injury, on the day after he released Baker to return to all normal activities. "It required a lot of different and sophisticated surgeries, but essentially it was a two-stage process."
The first stage, Dr. Champagne said, was complicated, because it involved rebuilding Baker's heel in what is called a "free tissue transplant," using muscle from his shoulder. "This tissue filled the area over the heel bone and could be shaped to look like a foot."
"I was in the hospital for 10 days the first time, during which they performed five surgeries," Baker recalls. "Then I went home for a couple of weeks ."
But while tissue from the shoulder can fix the shape of the foot and heal the wound, it is not durable enough to walk on, Dr. Champagne said. A second stage of surgeries would be needed to finish the reconstruction and create a usable foot.
"After I went home the first time," Baker said, "my new heel tissue died. So I came back into the hospital for nine days, five more surgeries and time in the intensive care unit. Since I got out the second time, I've been back for seven more outpatient surgical procedures.
"I got to be good friends with the nurses," Baker said. "They took really good care of me. And Dr. Champagne really worked to save my foot so I can walk almost normally now." Even better, Mike can move around and play with his four-year-old son, Jonah.
What Dr. Champagne ultimately did to give Baker a foot that would last involved sliding tissue from the arch of his foot into the heel area. "Arch tissue is not initially as tough as heel tissue," he said, "but it is similar, and with use will develop calluses and will toughen up. Additionally, unlike the shoulder muscle we used to rebuild his foot shape, the arch tissue is sensate – it has nerves so that Mike can feel anything sharp or hot that he steps on, just like a real foot."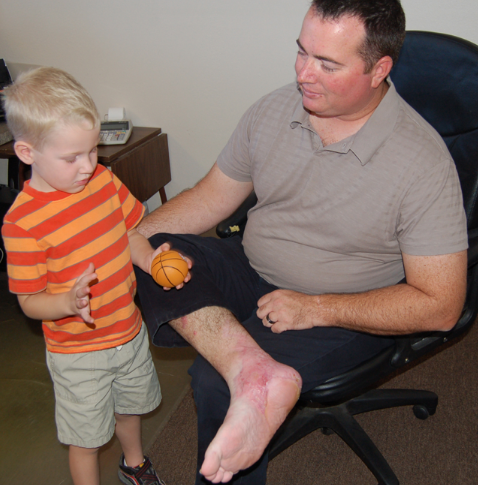 Dr. Champagne said the final results "are phenomenal. This is a great story."
In fact, Baker can get around so normally that he has a new – albeit stronger, more stable, less likely to flip – UTV, and on free weekends, he's back in the desert, happily four-wheeling off the road again.