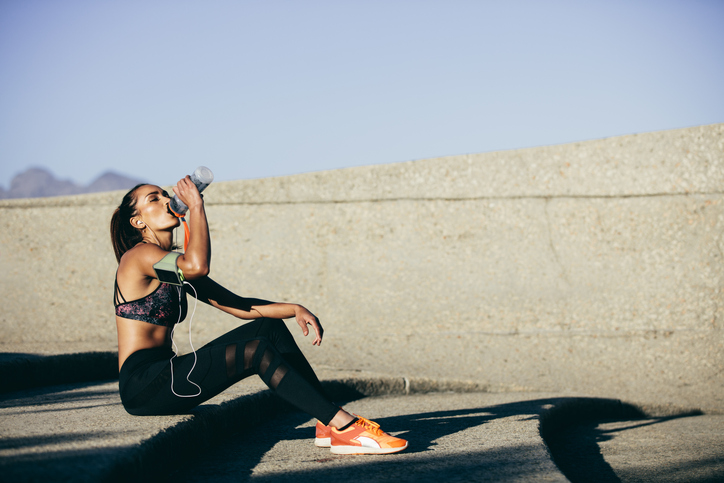 Summer is right around the corner. The beginning of 2020 has been an unprecedented and crazy time and most likely you have have been cooped up and ready to get out and enjoy socializing more with friends.
Summer brings tank tops, shorts and bathing suits – but it also brings post-work happy hours, weekend barbecues and indulgences of food and beverages. This is when we may come to the realization that we need to spice up our exercise regime in order to look and perform to be our best selves.
The key is to plan effectively to stay safe when the temperatures start to soar. Planning ahead and being smart is pivotal to success.
The Right Workout Clothes Are A Must
There's quite a debate about whether black or white clothing is better to wear in the heat to keep your body cooler. The debate comes in because there is heat coming in from the sun, but there is also heat coming directly from a person's body. For working out in the hot weather, the recommendation from most experts would be to wear lighter clothing that reflects heat from the sun.
Wear something breathable. Cotton is light but also highly absorbent. When you sweat, cotton will become heavy and damp therefore creating discomfort. Nylon, polyester, bamboo, polypropylene and spandex are better options.
Keep in mind that the sun can also penetrate clothing, so SPF 45+ sunscreen is a must. Remember to use all over and not just on the parts of your body that are exposed.
Hydrate, Hydrate, Hydrate
Being hydrated is one of the most important factors of keeping your body safe when you exercise in the heat. Many people only drink water when they are thirsty. This is a big mistake! When you actually feel thirsty that means your body has already become dehydrated. You should ensure to drink water before, during and after your workouts. While you are working out, the American College of Sports Medicine recommends that you should consume 4 to 16 ounces of fluid every 15 to 20 minutes.
Sweat is what ultimately cools your body and is a vital component of staying safe when you exercise.
Stay Away from the Middle of the Day
The best time to exercise is early morning before the full heat of the day ramps up. If you're not a morning person, this summer would be a great time to try and create a new habit. There's no better feeling than getting your workout in early and having the rest of the day to be productive. You will feel accomplished, have more energy and, in most cases, just be in a better mood all day!
Change your Workout or Dial Down the Intensity
If you do decide to work out in the heat, you may need to take more breaks than if you were inside in the air conditioning. Shorten your workout, if necessary. Instead of exercising in the direct sun, try and find a trail or an area that is shaded with trees and do your workouts there. Instead of running on hot pavement, go swimming or try biking if there is a breeze. If necessary, just dial down the intensity level of your workout and do something that isn't as physically demanding. Remember, your body will tell you when it's time to stop or rest.
Be Smart
If you plan your summer workouts with the above tips in mind, you will be setting yourself up for success and also ensuring you stay safe. Now let's get out there and have a great summer with so many different fun options for us when it comes to exercising outside!
Joella Hopkins is the Vice President of Group Fitness at EōS Fitness, which has 22 high-value, low-price gyms and counting throughout the Valley. She has over 20 years of experience in the fitness industry. For free on-demand and live workouts, go to https://eosfitness.com/at-home-workouts/