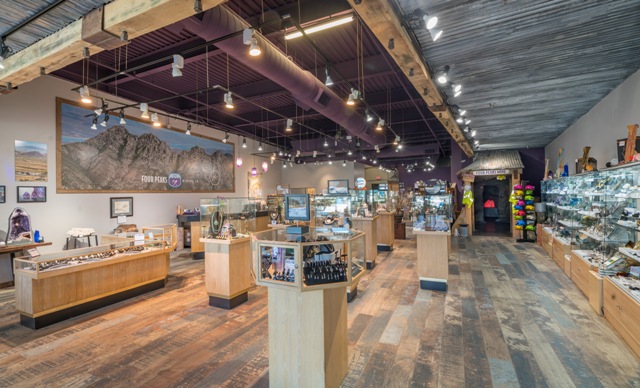 We may be a few months away from the holiday-shopping season, but OdySea in the Desert in Scottsdale has welcomed a fantastic new shop that you'll want to put on your list: Four Peaks Mining Co.
The store features hand-crafted and unique jewelry made from gemstones mined around the world, like Indian Moonstones, topaz from Brazil, larimar from the Dominican Republic and so much more. Four Peaks Mining Co.'s signature gemstone, the Four Peaks amethyst, is mined on the western slopes of the Four Peaks of the rugged Mazatzal Mountain Range right here in Arizona (46 miles from Phoenix). Owning a peice of jewelry featuring this amethyst is like taking a piece of Arizona home with you.
This mine has been worked since the 1920's and the finest-quality stones are sought-after worldwide by collectors. And getting this gemstone is no easy feat; the miners live at the mine for one to two weeks at a time and have to hike nine miles roundtrip to get to work. There is no running water or electricity at the mine and hand tools must be used for the slow tedious extraction of the amethyst.
The amethyst produced at Four Peaks amethyst mine is known as Siberian Red amethyst as it has a red flash when viewed under natural light. This find is especially rare and unique, as the only other place that produces this color of amethyst is in the Ural Mountains in Russia.
Though the shop features hundreds of jewelry designs, there are Arizona amethyst and other loose gemstones that you can purchase and incorporate into your own designs. Moms and dads: there is fun for the whole family here. Kids will adore the "mine tour" through Four Peaks Mining Co., even using mining tools, wearing a helmet and cutting open a geode.