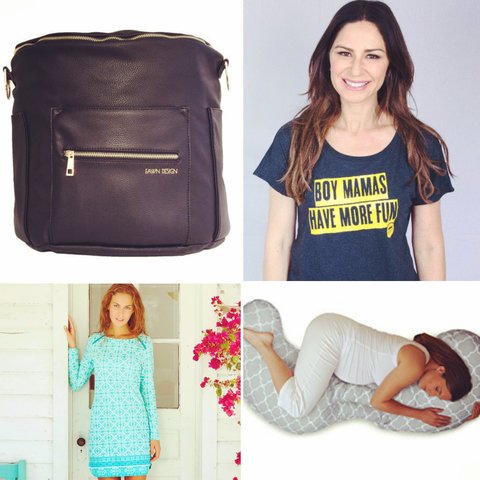 For the modern mom, chic mom, practical mom, expectant mom, and new mom... these gifts are sure to make mama feel loved this Mother's Day.
Fawn Design Anytime Bags
Style and class meets space and functionality with the Fawn Design anytime bags, commonly used as diaper bags. This convertible carrier can be used as a messenger bag or backpack with comfortable straps. It's easy to clean and opens wide with a total of ten pockets and keychain hook. Mom will thank you.
Home Chef
Give mom a break from grocery shopping and gift her a subscription to Home Chef, a dinner delivery service packed with fresh ingredients. Weekly boxes arrive with easy-to-follow recipes allowing an enjoyable cooking experience the whole family can enjoy. Many meals are prepped and ready to eat within an hour at most. My favorite part about this dinner delivery service is that the system recommends meals based on your designated preferences, or you can choose your own!
Baby Zala Infiniti Shawl
These gorgeous Infiniti shawls are ideal for cool summer nights. They're lightweight, versatile, and ideal for traveling. They can be worn a variety of ways, and can even convert into a stroller canopy for your baby with a snap of a few buttons. Available in many colors.
meori Foldable Boxes
For the uber-organized OCD mama, check out the assortment of storage organizers courtesy of meori. Available in an array of styles, sizes and designs, these "boxes" are both sturdy and convenient, easily folding flat when not in use. Our pick: the large classic box that offers two compartments. Ideal for art supplies or storing school projects/artwork.
Simple Clean
I know…you're probably thinking mom would be turned off by receiving cleaning products on her special day, but think again. Many moms appreciate something practical, especially when it comes to the latest and greatest in cleaning products. Real Simple (yes, the popular magazine) came out with an innovative line of chemical free, planet-conscious cleaners for a health home. The plant-rich formulas are safely derived, leaving behind natural smelling fragrances like lavender. Dozens of products available for hand washing, kitchen cleaners, dish soap, surface repair and more.
Fab Mom's Guide: How to Get Over the Bump & Bounce Back Fast After Baby
This motivational mommy read is essential for the mind a spirit for first time moms. Face it, bouncing back after baby isn't easy, and well-known author, Jill Simonian, puts our thoughts into words. The book details insight and practical to-dos to reinvent yourself after enterting motherhood. The FAB Mom's Guide is a fast and unfiltered telling of personal stories and celebrity encounters with lessons that lead first-time moms on a distinctive journey to develop confidence and resilience. Keep in mind- "FAB" stands for focused after baby! Any mom will appreciate this uplifting, entertaining read.
"Hamilton" Tickets
Yep, you read right. If you want to get your hands on the hottest Broadway ticket, mark your calendar for Monday, May 15th- that's when the ASU Gammage 2017-2018 Season Subscriptions go on sale. Let mom know you'll be treating her to eight nights at the theatre in Tempe, AZ. The smash-hit musical about our founding father, HAMILTON, will anchor ASU Gammage's largest Broadway season ever, which also includes groundbreaking new works and heartwarming favorites such as FUN HOME, SOMETHING ROTTEN!, THE BODYGUARD, THE KING AND I, THE COLOR PURPLE, THE HUMANS and SCHOOL OF ROCK.
Cabana Life
Perfect for Mother's Day and perfect for summer. Cabana Life is the luxury leader in sun-safe clothing that blocks up to 98% of UV rays. The offerings are chic, practical, comfortable and trendy. Created by a melanoma survivor, this apparel will make mom feel loved and protected. Items such as tunics, rash guards, bathing suits and dresses available.
Mama B. Designs
Chic and cool tank tops for hot summer outings. Boy moms will love the "Boy Mamas Have More Fun" design, in addition to the lovely "blessed" design for any fortunate mama. Comfortable, cool and high quality- perfectly paired with leggings, shorts or beach sarongs. In addition, browse the Miracle Line benefitting March of Dimes; stylishly spread prematurity awareness by wearing the inspirational tops and tees.
Pink Blush Maternity Wear
This maternity wear is for the expectant mom who prefers maxi dresses over leggings. Designed specifically for the modern preggo mama, Pink Blush offers stylish, comfortable and affordable maternity apparel spanning dresses, nursing tanks and more. Many of the options can easily be worn during pregnancy and after birth, making mom feel beautiful on the inside and out.  
Moonlight Slumber Pregnancy Pillow
Speaking of the expecting mom, pamper your preggo wifey with the Comfort-U Maternity Pillow from Moonlight Slumber. Pregnancy equals tough sleeps for many belly bumping mommies, so why not treat mom to something comfortable and comforting? Designed in three parts, this maternity pillow supports a growing body, helping mothers-to-be attain the side-sleep position recommended by gynecologists for baby's health. Separately, the nursing pillow and two bolsters grows with your child, making this maternity pillow a purchase that your family will use and enjoy well into the future.
Finders Key Purse
For the accessory-loving mama, opt for a fashionable piece that also serves practical. Finally, a solution so mom will never misplace her keys. Finders Key Purse® attaches to your favorite keychain and hooks over the side of your bag so your keys are safely inside with a cute design showing on the outside. The company also offers safety packages, equipping your Finders Key accessory with items such as a panic alarm or pepper spray.
Boppy Luxe Pillow
Gift new moms the most luxurious breastfeeding pillow ever courtesy of the trusted brand, Boppy. This ultra lux nursing pillow is also used for bottle feeding, baby propping, tummy time and sitting. Consider it the basic Boppy on steroids- equipped with a super soft removable cover. Both the pillow and cover are machine washable.
Chooze
Purposely mismatched shows making any mom stylishly unique. The Womens Choice in BOHO Chooze style flaunts a modern, colorful design mom can easily pair with shorts, leggings or jeans. The padded, anti-stink insoles are a must-have for moms on the go, in addition to showcasing a padded throat for ankle comfort. Plus, Chooze will donate a percentage of your purchase to a designated organization. What mom doesn't like fashion that gives back?!   
Nadine Bubeck is a TV personality, fashion designer, author, blogger, and Scottsdale-based blessed boy mom.