Page 1 of 5
It's Valentines Day this month and love is in the air, so AFM asked five local couples about how their romance began and what continues to make their relationship special.
Christopher Gross & Jamie Hormel
Dating since: April 9, 2007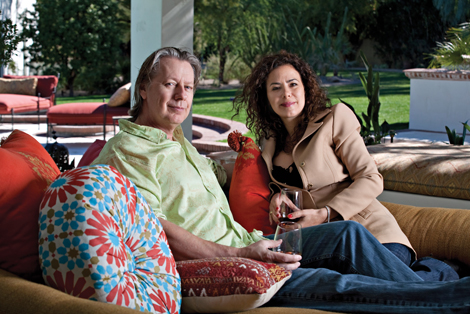 Christopher Gross, the award-winning chef behind Christopher's Restaurant and Crush Lounge in Phoenix, and Jamie Hormel, owner of Phoenix's historic Wrigley Mansion, are a match made in foodie heaven.
Acquaintances since 1992, chef Gross and Hormel met at various charitable events, but didn't start dating until 2007—a courtship to whom they credit their mutual friend, Carla Goodyear. Thanks to Goodyear's introduction (and several girls' nights out at Christopher's Restaurant), Gross, at last, asked Hormel to dinner at Asia de Cuba. "I was very nervous when he asked me out," she says. "I wasn't sure if it was a date, or if I was supposed to pay for myself."
That initial date flourished into a two-an-a-half year relationship and a home that Gross and Hormel share with her three children from a previous marriage, six dogs and Spammy, the potbelly pig. As restaurateurs, their work often requires long, late hours, but at the end of every evening, they make it a point to reconnect over a glass of fine wine and a good movie.—C.W.