Page 2 of 5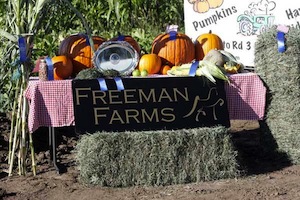 Pumpkin Patch at Kiwanis Park
Located in Tempe, The Pumpkin Patch at Kiwanis Park has farm-grown pumpkins, a bounce house city with plenty of other ghoulish games for the kids. The park will also offer festive Halloween treats, including candy apples and ice cream to satisfy your sweet tooth. http://wheelfunrentals.com/content/page1.aspx.
Freeman Farms Pumpkin Festival
Freeman Farms is located in Chino Valley, approximately five miles north of Prescott, and prides itself in offering Valley residents a "real farm experience." Join them as they present their family-friendly Sixth Annual Pumpkin Festival opening the weekend of Sept. 29 and 30. The festival will remain open every Saturday and Sunday in October. It includes real bouncy tents for kids, a real corn maze, real wagon hayrides and, of course, a real pumpkin patch. Don't miss out on one real fantastic event. http://www.azpumpkin.com.