Page 2 of 3
What are some things you want people to know about you?
We both enjoy simple things, like cheesy reality TV shows, home improvement projects, taking our dogs for walks, hiking Camelback, swimming in our pool and making dinner at home together.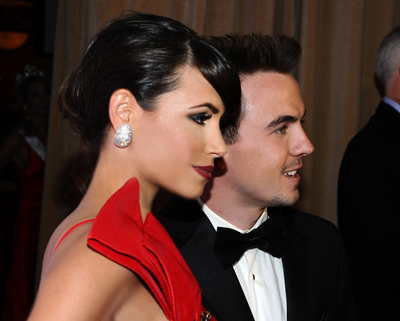 What does an average week day consist of?
Frankie: It depends on my mood. I'm either golfing, rehearsing with my band You Hang Up, or leading car dealers on by test driving all the latest cars on their lot. It's impossible for me to sit still, so I'm always on the move.
Elycia: I'm super busy with my vintage clothing and accessory boutique, Arcadia Vintage, and loving every minute of it. Check out my lookbook at www.arcadiavintage.com and link over to my Etsy to shop online!
What does an average weekend consist of?
Frankie: Right now, I'm touring with my band on weekends. We're currently playing with The Plain White T's and Lee DeWyze. I'm having the time of my life.
Elycia: Estate sales, lunch dates with friends and the occasional "night out". My brother has the most adorable family, so a movie/BBQ with them is an ideal weekend day for me.
Frankie, tell us what Elycia means to you.
She means everything to me. I couldn't imagine my days without her.
Elycia, tell us what Frankie means to you.
He's got the sweetest heart. He's my best friend.