Alopecia Universalis is not easily pronounced or a word used in everyday vocabulary. However, this serious medical condition is a reality for more than 4 million people, including one very special 10-year-old Valley girl.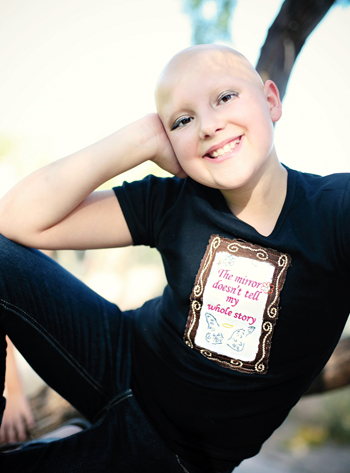 Tracey Martin was balancing family life and a career when her then 4-year-old daughter, Mekenna, came down with strep throat. After a routine doctor's visit, Mekenna was prescribed antibiotics and bed rest. Days later, Mekenna's fever spiked to 101 degrees, sending both her and her mom back to the pediatrician. After catching Mekenna up on a few routine shots, she was sent home to rest. Ten days later, Mekenna started to lose her hair, leaving behind a quarter-size patch on her head.
Worried and confused, the Martins met with Mekenna's pediatrician who thought her hair loss was an adverse reaction to something—what had yet to be determined. They also met with Phoenix Children's Hospital's national pediatric dermatologist who thought Mekenna's hair loss was associated to her body's autoimmune system. The combination of multiple blood tests, extremely dry skin (Martin had to rub Mekenna down with olive oil daily), brittle nails and unexplained hair loss confirmed that Mekenna had Alopecia Universalis, a rare autoimmune disease that attacks the body's hair follicles resulting in complete hair loss. With three different forms of Alopecia (Alopecia Areata, resulting in loss of hair on the scalp; Alopecia Totalis, resulting in small round smooth patches that could progress to entire hair loss; and Alopecia Universalis, resulting in complete body hair loss), Mekenna's is the most severe form.
Diagnosed at 5 years old, Mekenna, now 10, has spent half her life overcoming many hurdles—most head-on. While in kindergarten, she stood in front of her class and spoke about her newly diagnosed disease while her mom watched from the classroom's back row. "It was at that point I knew everything was going to be O.K.," Martin says.
After years of grueling procedures and invasive blood testing, the Martins turned to homeopathic and naturopathic medicine which includes chelation therapy, a process by which an ingested powdery substance binds to the metals in the body and releases any toxins via the respiratory system, the epidermis or urine. For Mekenna, who has high levels of toxins in her body, it's a less invasive process that provides results. And because Alopecia is considered a vanity disease by medical standards, all of Mekenna's treatments are paid for out-of-pocket.
While the Martins are making ends meet, there are other families who are affected by the disease and can't afford such treatments. So, in an effort to raise awareness and help those in need, the Martins formed the Alopecia Angel Project. Still in its infancy stage, the Alopecia Angel Project affords kids the opportunity to get involved, participate in fundraising projects and have a voice. Mekenna also contributes to the foundation by writing a weekly blog, sharing her story with others and being a friend to those who want to share theirs.
Additionally, Mekenna enjoys collaborating with her mom, owner of clothing company Baby Butter Originals, on designing her own line of clothing called Positive Sparkles. The line features heartfelt sayings that were thought of by Mekenna, and all sales from the shirts will go directly toward the Alopecia Angel Project and other Alopecia foundations in the future.
Mekenna embraces each new day with a smile and doesn't let hair (which was once long and brown) define who she is. Her love of art and her passion for animals has her torn between becoming a photographer or a marine biologist. But, for now, she is enjoying just being a kid.
TO LEARN MORE:
Alopecia Angel Project, www.alopeciaangelproject.org.
National Alopecia Areata Foundation, www.naaf.org.