Wilson Sporting Goods Co. has provided the NBA with the official game balls for the past 17 years. During this time Wilson has challenged itself to take the game of basketball to the next level through innovation. Daring to do what nobody else has done, KJ Martin of the Houston Rockets revealed a 3D Airless Prototype Basketball during the first round of the 2023 NBA Dunk Contest on behalf of Wilson.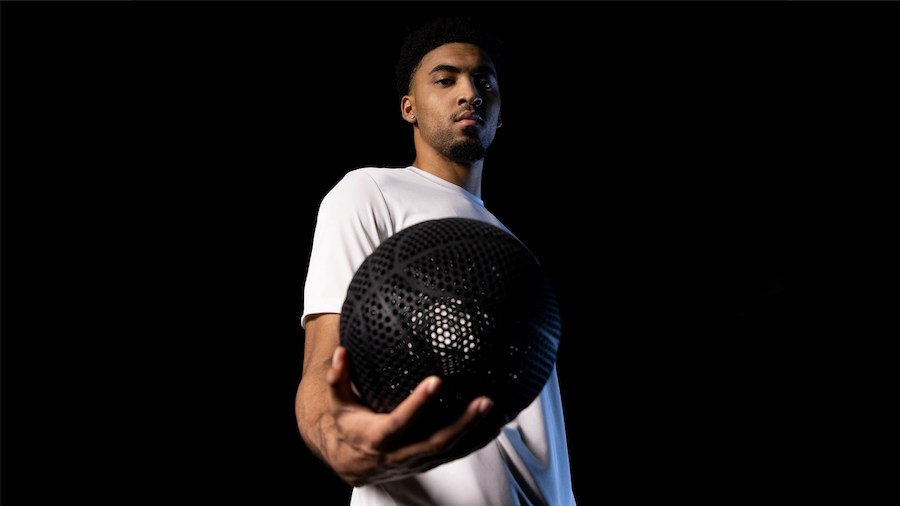 "We are so proud to unveil Wilson's 3D Airless Prototype basketball as a physical manifestation of our continued commitment to sport innovation," says Kevin Murphy, general manager of Team Sport at Wilson. "This is just one example of how our team approaches the game and why we are the number one basketball company in the world today."
The unprecedented 3D-printed ball looks deceiving, however it's is truly playable. The ball nearly fits the performance specifications of a regulation basketball after rigorous testing, including weight, size and bounce. The only difference is this ball does not need to be inflated as it is made of a black see-through lattice with eight panel-like "lobes."
This 3D prototype was put on display to show the innovation taking place between Wilson and the NBA. There will be no changes made to the official Wilson NBA game ball, which will continue to be made with the same eight-panel leather layout and performance specifications of today's game.
"This is my first time participating in the NBA All-Star festivities, and to do so with Wilson, in such a memorable way on a big stage here in Utah is really special," says Martin. "The game continues to evolve with each generation of players, and to have a brand partner continue to push the envelope through innovation is so important to the future of basketball."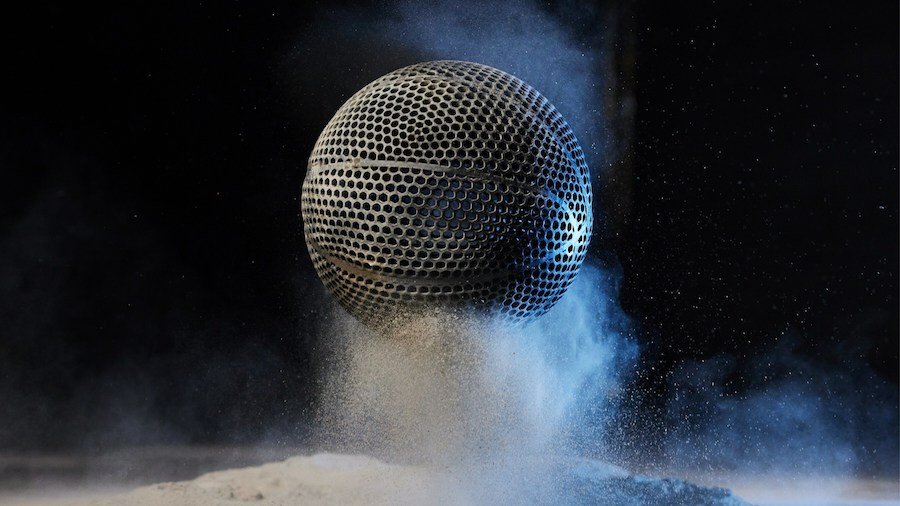 The ball was created by the Wilson Labs team at the company's Innovation Center in Chicago before bringing the design into reality with key partners. General Lattice provided computational design services, DyeMansion provided color and finishing solutions, and EOS provided additive manufacturing from its technical center, which is powered by AT&T's high-speed fiber network.
One of the key changes a ball like this can make for the NBA game is altitude, temperature and air pressure in the ball will all become relevant. Every single ball used would be the exact same no matter the environment while having to not worry about the ball becoming flat or overinflated. All of this allows every NBA player to always use the exact same ball for every game and practice.
To learn more about Wilson's 3D Airless Prototype Basketball, click here.