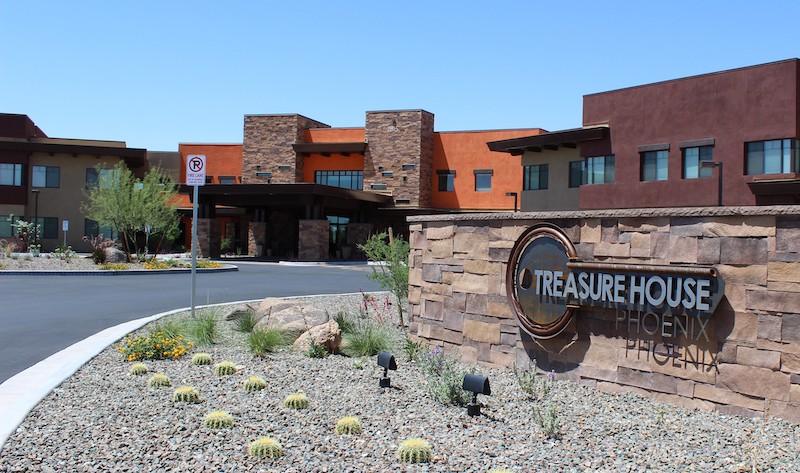 Treasure House, near 75th Ave, & the 101 in Glendale, was founded in 2018 by Brenda & Kurt Warner.
Photo: Thurlkill Studios, LLC
"Zack Warner was never bullied in high school—probably because he was the son of Pro Football Hall of Famer Kurt Warner, but the minute school was over, he was a ghost. No one invited him to birthday parties or to go out with them," says Lauri Tanner, CEO of Treasure House Phoenix, an active living community for young adults with intellectual and developmental disabilities.
Every year, 111,600 intellectually and developmentally disabled teens ages out of school-based services (teasurehouse.org). Once they graduate, many fall into a liminal space, forgotten and ignored by society.
Inspired by their eldest son, Zack, who suffered a traumatic brain injury as a young child, Kurt and Brenda Warner founded Treasure House in 2018. They wanted to create a place where young adults with intellectual and developmental disabilities could "come together to overcome perceived challenges, develop meaningful relationships and contribute their gifts to society" (treasurehouse.org).
The Warners tapped Lauri Tanner, an experienced nurse, pediatric hospital CEO, and Treasure House board member, to lead the organization.
"I was CEO of a children's hospital specializing in pediatric rehabilitation," says Tanner. "I used to help save kids' lives. Now, I'm helping these young adults have vibrant, meaningful, productive lives with as much independence as they want."
Because of Treasure House, young adults like Zack have independence in a safe place, but no longer live in isolation.
"A lot of our residents got bullied, so they didn't have friends when they came here," says Tanner. Now they are learning how to have healthy relationships.
The 29 residents at Treasure House range in age, with most between 19–35. The oldest resident is 50. Tanner said the age range is based more on developmental rather than chronological age.
For some residents, Treasure House is a stepping stone to complete independence. For others, it is their forever home until their medical or aging needs require assisted-living facilities.
Residents have private apartments in a beautiful facility in Glendale. There is 24-hour supervision at the campus, a full-time chef, a dietician and life coaches. Residents learn life skills, like managing money, scheduling doctor's appointments and healthy eating habits.
Most residents want to work, and 95 percent of those who want to work have jobs. Some have two jobs, while others work and go to college. Treasure House transports the residents to and from work, school, grocery shopping and appointments.
"We find out what they want to do and make it happen!" says Tanner.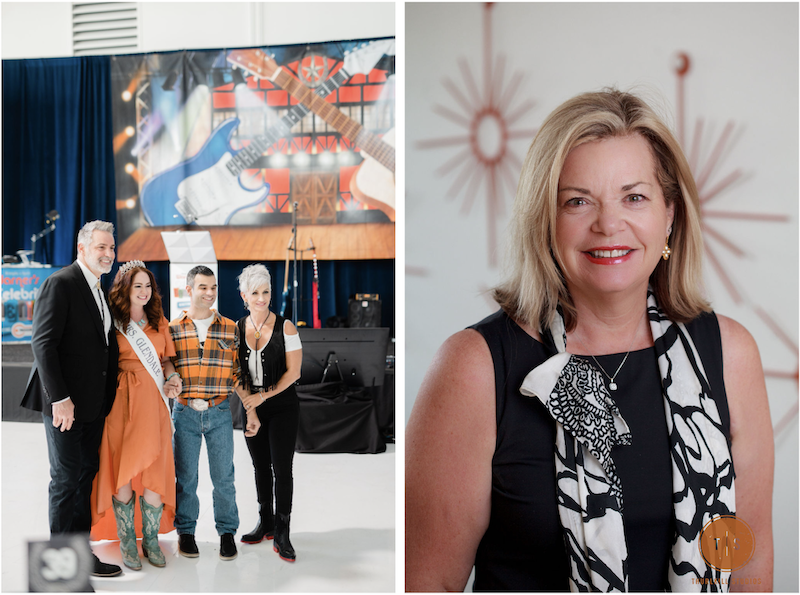 From L to R: Kurt, Brenda and Zack Warner with Mrs. Glendale at Celebrity Game Night (Photo: The Creative District); Lauri Tanner, CEO of Treasure House (Photo: Thurlkill Studios, LLC)
Treasure House residents have a variety of planned activities in their downtime, including hiking, biking, a golf group and a theater group. Residents also enjoy working out at Mountainside Fitness. One resident named Matt runs every day on the treadmill. Before coming to Treasure House, he wouldn't go inside big box gyms. "Now, he walks into (Mountainside), and he's like Norm of 'Cheers," says Tanner.
Treasure Hosue residents pay $3,300 per month for room and board, although the total donor cost per resident is $6,000 per month. Tanner fundraises approximately $1.5 million annually to cover the gap.
Tanner and the Warners have big dreams for Treasure House. They recently launched the Growing Home Campaign with a goal to raise $10 million over the next three years. They want to guarantee the present and future of Treasure House Phoenix to ensure that it is financially attainable for anyone and also begin the research and development for a national expansion. Tanner hopes to launch six more campuses before she retires.
Based on Tanner's work over the last four years, there is every reason to believe she will accomplish that goal.
To learn more about Treasure House or support the Growing Home Campaign, click this link.
This feature is in our special edition IN AZ 2023 issue. Read the full issue online here for more inside intel on where to stay, dine and everything in between IN AZ this sporting event season.