Dubbed the "Social Media Quarterback" by the Arizona Super Bowl Host Committee, global speaker, sports podcaster, writer, digital strategist and Arizona native Jeramie McPeek is the man in charge of bringing Super Bowl LVII to life on social media.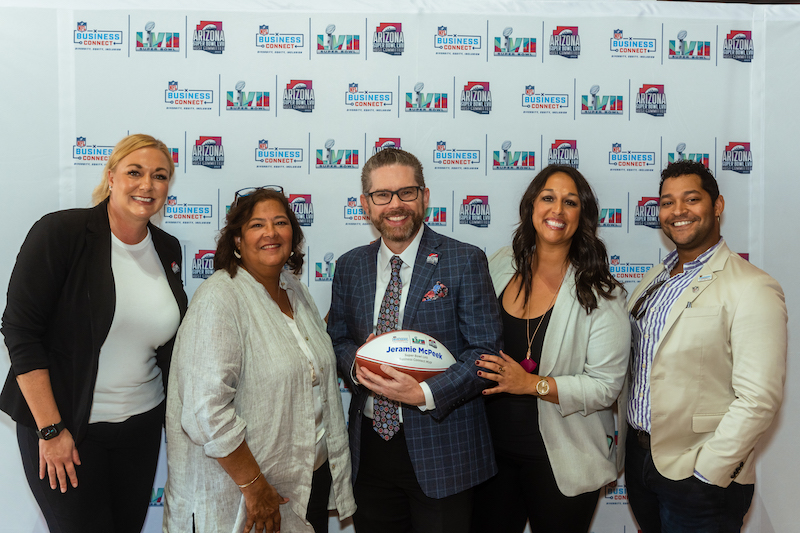 Jeramie McPeek, center, was the keynote speaker for the #SB57 Business Connect Program recently, sharing his social media learnings with local businesses that were selected to be part of the program.
Photo: Courtesy @AZSuperBowl
Since graduating from Walter Cronkite School of Journalism and Mass Communication at Arizona State University, McPeek spent 24 years with the Phoenix Suns as the team's vice president of digital and brand strategy and has been published in national magazines and won two Emmy awards. In 2016, he launched his social media agency, Jeramie McPeek Communications, which serves local and national clients, including the Cactus League, Fiesta Bowl and Arizona Super Bowl Host Committee.
McPeek first joined the Arizona Super Bowl Host Committee to manage social media for Super Bowl XLIX in 2015. With the big game returning to State Farm Stadium next month, he is back in position as "Social Media Quarterback" for Super Bowl LVII.
"I'm happy to be back with the Committee again for the second time around. Obviously it's a very exciting time!" he says.
As "Social Media Quarterback," McPeek oversees all the Arizona Super Bowl Host Committee's social media accounts, which are recognized all by the handle @AZSuperBowl on Instagram, Twitter, Facebook and Tiktok. He and his team have been actively posting Super Bowl LVII content on a daily, weekly and sometimes hourly basis since fall 2021. The goal is to shine a spotlight on the state of Arizona, give people a behind-the-scenes look into the hundreds of events and community outreach activities the Arizona Super Bowl Host Committee is activating throughout the state and get fans excited for the game itself.
"There's a lot going on and a lot to talk about, and it makes for a fun role operating and managing social," says McPeek.
While this is Arizona's fourth time hosting the Super Bowl, McPeek and the Arizona Super Bowl Host Committee are making sure to create an exciting and unique experience surrounding Super Bowl LVII. This season, he will use social media to give fans innovative ways to get involved and keep up with events by utilizing new technology features on social media channels, such as Instagram Stories and Reels, using social media influencers as brand ambassadors to spread the message of Arizona and running big giveaways in the coming months.
The re-imaged Social Media Command Center inside the Phoenix Convention Center will also give fans an interactive opportunity where they will be able to look through a plexiglass wall and watch McPeek and his team in action, take selfies with the giant LVII roman numerals, meet Spike the mascot, view trending Super Bowl posts on a video wall and more.
"Arizona is my home. I love this state, and it's pretty special to know that the entire sports world is going to be watching a game in Arizona. They're going to see the beautiful landscape of our state and the sunsets and the mountains and cacti and the vibrant downtown," says McPeek. "I think it's just really cool that we get a chance to shine that spotlight on Arizona and let people know what an amazing place this is, so I do have a lot of pride in getting the chance to be a part of that through the Arizona Super Bowl Host Committee."
This feature is in our special edition IN AZ 2023 issue. Read the full issue online here for more inside intel on where to stay, dine and everything in between IN AZ this sporting event season.