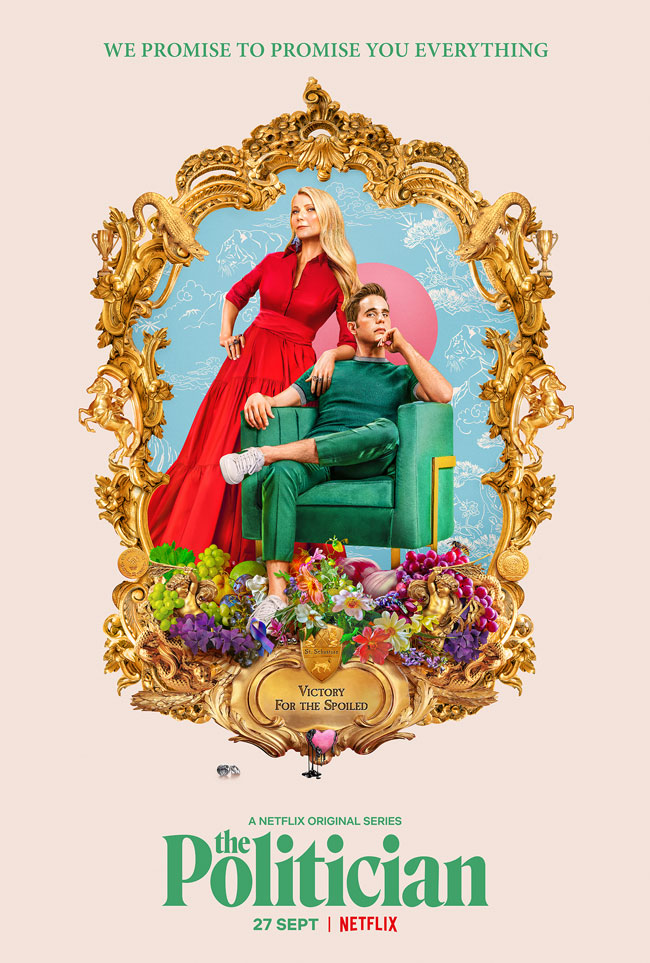 As Netflix continues its dominance in the era of streaming, it of course was only a matter of time that the king of television himself – otherwise known as Ryan Murphy (Glee, American Horror Story, American Crime Story, Pose) – would challenge his creative giftset by taking his talents to the streaming service in the form of a new series, known as "The Politician."
Though the series features the usual presence of youthful and vibrant Murphy-flare, it ultimately presents a never-before-seen plot with wide enough range to appeal to any and all audience types. Most impressively, among the series' wild antics and star-studded cast (with high-profile names like Gwyneth Paltrow, Jessica Lange and Bette Midler, to name a few), the show maintains a striking political undertone which draws outrageous parallels between the future and present.
Payton Hobart (Ben Platt), a wealthy student from Santa Barbara, Calif., has known since age seven that he's going to be the President of the United States. But first he'll have to navigate the most treacherous political landscape of all: Saint Sebastian High School. To get elected Student Body President, secure a spot at Harvard, and stay on his singular path to success, Payton will have to outsmart his ruthless classmates without sacrificing his own morality and carefully crafted image. Created by Ryan Murphy, "The Politician" offers a rare glimpse into just what it takes to make a politician.
And spoiler alert: despite the complicated dynamics showcased between each of the characters on screen, the cast actually really likes each other off-screen. As Theo Germaine recalled, their relationships are just further proof that "it's a special cast."
Whether they're going dancing or taking spontaneous trips to Disneyland, their sincere chemistry and notable bond – that's visible even within just a 15-minute conversation with two of the show's stars – helped them evolve their roles into complex, full-bodied characters, ultimately delivering some of the most unforgettable performances of their careers.
We had the chance to chat with Germaine (James Sullivan) and Laura Dreyfuss (McAfee Westbrook) about the progressive nature of the series, as well as the subtle brilliance of Murphy.
AFM: One of the things that I found really refreshing about this series was that queer representation was really consistent throughout the plotline, and I appreciated the fact that while it was mentioned and it was highlighted throughout the series, it wasn't necessarily a focal point where it was meant to be the identity of these characters. So, how special was that for the both of you to be a part of a series that was so progressive in nature? And was that something that really drew you to this project to begin with?
Laura Dreyfuss: Yeah, that was really exciting for me. I think that society is learning that sexuality and gender all exist on the spectrum. And so, we were very fortunate to be able to play characters that just existed on that spectrum. And they didn't have to explain themselves…I think that the coming out story is very important. But it's also very refreshing to play a character that just is, and it's not like the main part of their story. It's just a part of who they are. It was a total dream come true, and something that I feel like wouldn't have existed even a couple of years ago.
Theo Germaine: Yeah, I basically echo everything that Laura said.
AFM: The show is unique in the sense that it really appeals to a wide audience, but it's particularly resonated among younger audiences. Do you think that one of the subtler incentives in creating the show is to have younger audiences take more of an interest in politics?
TG: I hope so.
LD: Yeah, I would say that was probably Ryan Murphy's mad scientist idea was to get people out to the polls. [LAUGHS] No, but I think that we're learning more than ever that we are inheriting a world that is a bit broken, and young people are now needing to pick up the slack. And so, I think that by doing a show that's so focused on young people picking up that slack, it does resonate with a younger audience. Again, it's reflective of the world we're living in, but done so in a way that's very different.
Ryan Murphy's "The Politician" is streaming on Netflix now.