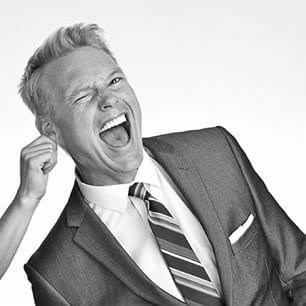 Since 2001, Cory McCloskey has worked for the FOX 10 weather team and has served as a central character for the Phoenix news team. Whether you tune in to his daily weather reports or you recognize his voice from radio sound bites, McCloskey's unparalleled work ethic and distinct voice have helped him to garner a reputation as one of Valley's most beloved public figures.
Though he may be a familiar face and voice to many Phoenicians and FOX 10 fans, McCloskey's talents exceed that of just being a weatherman. Among his many other passions is theater and a love for the performing arts. His curiosity for the craft evolved when he was much younger, and when he joked that his biggest desire was just in wanting to "be the center of attention." While McCloskey's reputation around Phoenix might circle back to his lively TV news career, even he believes that his journey has always revolved around performing in some capacity.
"It [this job] allows me to continue acting in a way. Everything I do here at FOX 10 is improvisational," says McCloskey. "It's spontaneous, and it's almost like a stage performance every day here because we are live and there is an audience out there."
Before his career evolved in the business of weather, McCloskey joined the Actors' Equity Association. For nearly a decade, he dabbled in an eclectic mix of on-stage work throughout New York, Baltimore, Philadelphia and Washington.
In the Valley, McCloskey has collaborated on projects with companies like the Arizona Broadway Theatre, Valley Youth Theatre, Fountain Hills Theater, and has even nabbed a recurring role as Ebenezer Scrooge in the Hale Center Theatre's rendition of "A Christmas Carol." Now, McCloskey's taking on a new and exciting project with the likes of the Scottsdale Musical Theater Company.
McCloskey is set to star alongside an all-star cast for "The Pajama Game," where he will play the character of Sid Sorokin, the new supervisor at a Cedar Rapids pajama factory. Amid a number of labor disputes, Sid falls in love with the head of the union's grievance committee – ultimately making for a very complicated, unexpected and fun show for the entire audience.
While the play itself tells an unforgettable story, McCloskey can't help but gush about his favorite aspect of the show – the music. In fact, his hope is that audience members will leave the show "singing, humming, and whistling."
"Like a lot of shows of that era, it really ties a nice ribbon on itself by the end. It's not Westside Story or any sort of a dark tale by any means," says McCloskey. "It's got all the elements: a couple love stories running through it, terrible management and employee relationships, fun music. It's all oddly relatable."
McCloskey has no shortage of talents and surprises; what's arguably most admirable about him, though, is his commitment to pursuing what he loves, regardless of time constraints or the pressures of his unconventional schedule.
As the morning weatherman for FOX 10, McCloskey is on set and ready for his on-camera work from 4:30 to 10 a.m. every morning. His time limits require an early bedtime, thus further complicating his availability, particularly while balancing his duties as a husband, father to three granddaughters, and more recently, as a grandfather to one darling granddaughter.
He is one of Valley's busiest and most in-demand men, but he's an example of the fact that you can truly love what you do, and still manage to make time for all of the other wonderful, in-between stuff too.
You can watch McCloskey along with a dazzling cast in the Scottsdale Musical Theater Company's production of, "The Pajama Man." Performances will take place at the Tempe Center for the Arts this July. For more information on the production, visit the Scottsdale Musical Theater Company's official website.