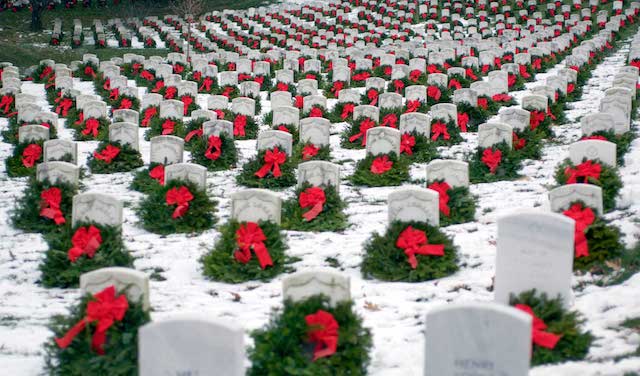 The holidays are noted universally as being a time of giving – whether it's to your community or to your loved ones. There are hundreds of organizations and charities across the county that work tirelessly to provide to those who are less fortunate by donating both their time and resources. And while there are many who are doing great work, very few have the spotless reputation and unique influence that Wreaths Across America does.
The story about the organization begins with Morrill Worcester, who is the owner of the Worcester Wreath Company of Harrington, Maine. When Morrill was only 12-years-old, he had the opportunity to visit Washington D.C., and more specifically, Arlington National Cemetery. At the time, it seemed like nothing more than an experiential chance for a simple, paper boy from Maine. But his visit to our nation's capital made a long-lasting impact on Morrill.
It was an experience that would inspire Morrill to challenge the ways in which we honor veterans within our country.
In 1992, the Worcester Wreath company entered the holiday season with a surplus of wreaths in their stock. Not knowing what to do with the extra wreaths, Morrill recalled his own childhood visit to Arlington. The emotional memory inspired the company to give their extra wreaths a purpose, and in a way that would honor our nations veterans.
With the help of Maine Senator Olympia Snowe, arrangements were made to have the wreaths placed at one of the less-visited sections of Arlington. The simple gesture encouraged others to step up and to help the cause. James Prout, owner of local trucking company Blue Bird Ranch, Inc., generously provided transportation all the way to Virginia. Volunteers from the local American Legion and VFW Posts gathered with members of the community to decorate each wreath with traditional red, hand-tied bows. Members of the Maine State Society of Washington, D.C. helped to organize the wreath-laying, which included a special ceremony at the Tomb of the Unknown Soldier.
The event eventually gained national recognition in 2005, and in 2007, the Worcester family formed Wreaths Across America – a nonprofit organization that would work to expand the Worcester Wreath company's efforts.
Each December on National Wreaths Across America Day, wreath-laying ceremonies are now held at not only Arlington National Cemetery, but as well as at 1,400 additional locations in all 50 U.S. states and abroad.
This year's Wreaths Across America Day will take place on Dec. 15. For more information on ways to volunteer, sponsor a wreath or even attend of their events, please visit the Wreaths Across America official website.