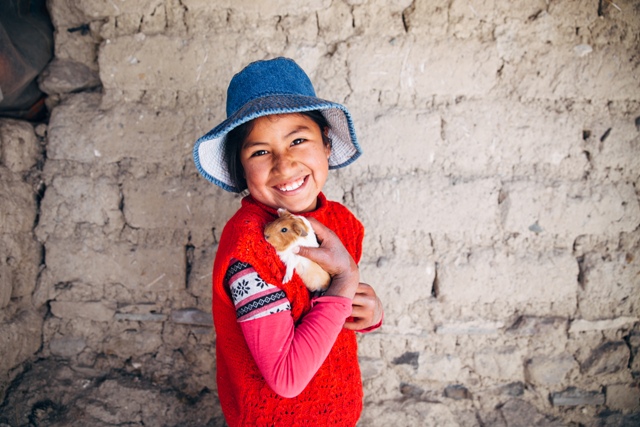 Charity begins at home. And in the midst of a chaotic holiday season, the Phoenix-based global organization, Food for the Hungry, is working to serve the physical and spiritual needs of the world's most vulnerable through its international relief and development efforts. Via its annual gift catalog, people can sponsor a child, donate or purchase items—everything from medical care for a child to two chickens for a poverty-stricken family.
Phoenix's Food for the Hungry, which was founded in 1971 by Larry Ward, envisions a world where impoverished communities are no more and vulnerable families are no longer susceptible to destitution. The international relief and development organization has ongoing operations in more than 20 countries. And while each communities' needs may be different, the organization's mission remains the same: graduate communities from extreme poverty through the implementation of sustainable resources.
Mike Meyers, CEO at Food for the Hungry, has been involved in nonprofit work for 22 years. Meyers believes that the nonprofit's mission to connect communities to solutions and resources that go beyond just solving the present problem will create a lasting impact on the issue of poverty, as a whole. "We are trying to be the best in the world at graduating communities from extreme poverty. We're not trying to go to a place and stay there forever. So, when we go to communities, we talk to the community up front about how long it will take for us to achieve the goals we want and to move this community out of poverty."
Although the organization is hoping to work in additional countries—as of now, Food for the Hungry wants to partner with its Korea affiliate office in an effort to launch operations in Vietnam—organizers also want to ensure that they are going deeper in addressing the specific needs in the countries in which they are already working. "We want to make sure that the places that we're working have plenty of the resource to do the job that they need to do and to graduate these communities," Meyers says.
The organization achieves its mission through the work of emergency relief and community involvement efforts. The organization has implemented projects like keyhole gardens that focus on reducing malnutrition of families in Guatemala and the draining of a swamp in the Congo, enabling Congolese farmers to learn how to grow sustainable crops to provide a much-needed source of nutrition as well as income. Food for the Hungry is doing its part to leave a long-lasting, global impact.
One of the nonprofit's most popular service efforts starts with its seasonal gift catalog. The catalog offers a unique opportunity for people to gift charitable donations to families around the world who are in need of basic resources. The tangibility of the catalog also helps to serve as a reminder of the real communities that are battling real issues.
Milam Byers, who serves as the director of sports partnerships at Food for the Hungry, noted that sifting through the organization's annual gift catalog in search of that perfect donation has become a holiday-norm for him and his family. "The gift catalog is a fun way to connect real dollars to things that are really making a difference in the lives of people around the world. One of our [my family's] favorite things is [buying] two chickens for under $20. And you can see what that can do for a family in providing things like eggs and protein for the day. And that goes all the way up to helping a family have a whole farm for like $1,000," Byers says.
Making charitable donations through the gift catalog is as simple as visiting Food for the Hungry's Web site, choosing an item and making the donation. It's a feasible and fun way to help a family or community that's in need this holiday season.
To Learn More
Food for the Hungry fh.org.