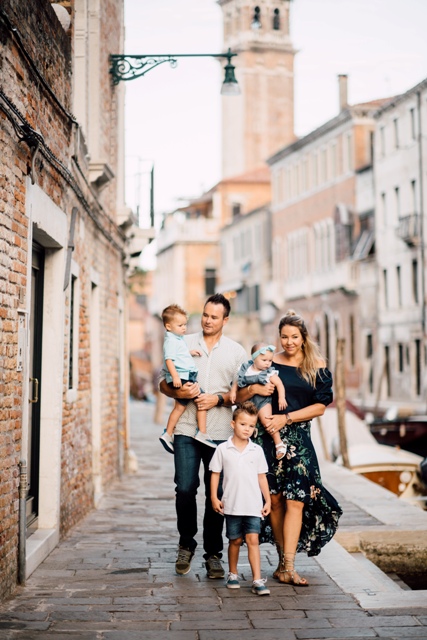 This November, one of the Valley's signature charity events kicks into high gear. This is the eighth year former major league baseball player Mark Teahen and his wife, Lauren, put on their Driving Out Domestic Violence Gala and Golf event in Scottsdale. The annual event, which takes place Nov. 2 and 3 draws celebrities from the MLB, NFL, NBA and PGA and raises valuable funds for Chrysalis and victims of domestic violence. The golf tournament runs all day Friday at Talking Stick Resort and, then, on Saturday guests are invited to mix and mingle with celebrity athletes while enjoying live music, signature cocktails, a one-of-a-kind silent auction, entertainment, dinner and an amazing spread of desserts by Dominick's Steakhouse. The Teahens founded Driving Out Domestic Violence to support Chrysalis' domestic abuse programs in honor of Lauren's late mother, Shelley, a domestic abuse survivor. We sat down with Lauren , who is now a mom herself to three children, to learn more about what drives her family to continue raising more than $1.8 million for Chrysalis and victims of domestic violence.
Lauren, tell us a little about your background and Mark's background in MLB?
I was born and raised in Scottsdale. Left home for college at Georgia Southern University where I played volleyball. Life after college took me to Kansas City where I began working in Pharmaceutical sales. I met Mark in 2006 when he was playing for the Royals. He spent five years with the Royals and was then traded to the Chicago White Sox. We spent nearly two season in Chicago until Mark was traded to the Toronto Blue Jays. During Marks career we were fortunate enough to use his platform to help raise funds for various non-profit organizations.
Why did you start the Driving Out Domestic Violence event?
My mother was a victim of domestic violence. After witnessing violence in our home first hand and seeing the lasting effects it had on my mother, I knew giving back to an organization like Chrysalis was something we had to do. Chrysalis was the kind of organization my mom needed all those years ago, but never found. Knowing the funds we raise through DODV might help change the life of an innocent victim is what inspires us to continue the work we do.
Tell us about the work Chrysalis does for victims of domestic violence and what it means to you?
Chrysalis is more than a shelter for victims and their children. They provide counseling, advocate services, offender treatment, transitional housing and so much more. As I said before, my mom desperately needed a place like Chrysalis but never found it.
Why is Driving Out Domestic Violence such an important evening and cause?
Driving Out Domestic Violence is Chrysalis's signature fundraising event and helps raise critical funds to serve over 1,400 women, children, and men each year. One in three women and one in seven men will experience domestic violence in their lifetime. Abuse takes many forms, but so does hope. Chrysalis provides advocacy, counseling, shelter, transitional housing and children's services to help people overcome the impact of abuse and rebuild their lives. Not only does DODV serve as the largest annual fundraiser for Chrysalis, but it also helps spread domestic violence awareness.
What happens at the gala and golf tournament?
DODV is a two-day celebrity golf and gala event. Golf takes place on Friday, Nov. 2, at Talking Stick Golf Course. Foursomes are $4,000 and sell out rather quickly. It's a great day of fun for everyone involved. The gala is the following evening at the Ross Aviation Hangar in Scottsdale. The evening consists of a great silent auction, entertainment, drinks and great food provided by Dominick's Steakhouse.
What advice you would give to someone who is a victim of domestic violence and in an abusive relationship?
You are not alone and help is available. No abuse is OK, and there is help for all forms of abuse including emotional and financial abuse. Chrysalis' website, noabuse.org, has great information on how to get help and what services are available. If you think you are in an abusive relationship, or one that may become abusive, getting help is vital to your survival. Reaching out to an organization like Chrysalis will help you recognize the signs and seek the help necessary before it's too late.
Visit http://www.dodvaz.org for more information.