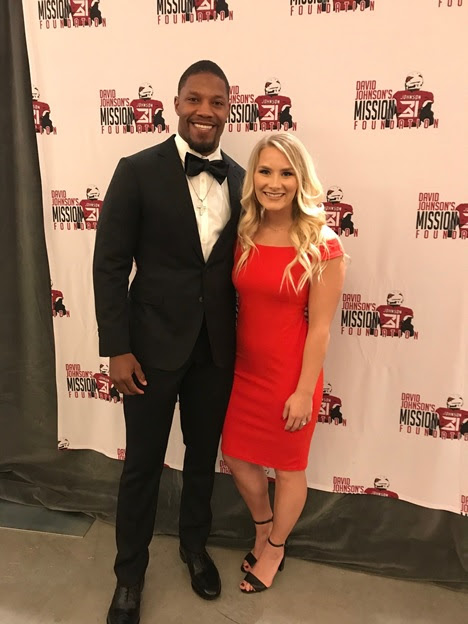 Arizona Cardinals' running back David Johnson is continuing to use the power behind his athletic success to better the community by hosting Johnson Family: Agents of Change event on Tuesday, October 23rd at 6:30pm at Mountain Shadows. Johnson Family: Agents of Change event will benefit The Johnson's Family Mission 31 Foundation, whose mission is to provide opportunities and resources to seriously ill children and their families by offering daily support and life changing experiences.
On October 23, Johnson and his Arizona Cardinals teammates will step off the football field and into the beautiful Mountain Shadows resort to mix and mingle with supporters of David's foundation, Phoenix's charitable community, and Cardinals fans. Guests will enjoy a high-spirited cocktail reception, fine cuisine, and exciting live and silent auctions.
In April, David and his wife, Meghan, opened the first "David's Locker" at Phoenix Children's Hospital. David's Locker provides patients and their family members access to electronics during hospital stays. The lockers serve as a source of entertainment, a portal for communication and a diversion during treatment and recovery. The locker at Phoenix Children's Hospital is unique because it was designed to be mobile in order to fit the hospitals' needs for technology on an isolation floor.
Both David and Meghan have a steadfast dedication to serving children in the community which is why David's Locker is an important aspect of the foundation.
"We want these kids to feel like kids," David Johnson said. "We want them to feel as much as they can that their childhood is still there, and they still have a chance to be children."
To help be an agent of change for The Johnson's Family Mission 31 Foundation, sponsorships and tickets can be purchased online at davidjohnson31.org. Tickets are $350 each and include an Arizona Cardinals signature football for celebrity autographs, hors-d'oeuvres, a four-course meal, and wine as well as tax, gratuity, and valet service. Outside memorabilia is prohibited.