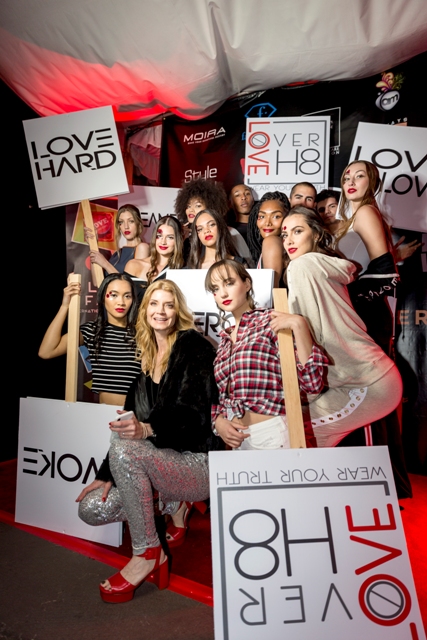 With the idea of spreading love and supporting one another, an inspiring Valley woman is creating a positive change and a call to action in our community with her new clothing brand.
Love Over H8 is a clothing brand created and designed by the Valley's own Cheryl Najafi to inspire others, raise awareness and provoke change. With $5 of every purchase going to a cause, this brand is all about giving back and fighting for equality and tolerance. The cause that the money goes to? Completely up to the customer! When checking out, the customer decides what cause resonates most with them.
Having started out writing a blog for the busy mom on the go, Everyday Dishes, Najafi already had a platform and a community. She had an audience of like-minded individuals and starting the brand Love Over H8 in 2017 was the next step.
This concept was sparked within Najafi at a young age. Coming from a small town in the Midwest where everyone dressed the same, there was little diversity. "I always gravitated toward people who were different and had interesting stories and experiences to share," she says. "Moving out to Arizona and seeing first-hand the racism, the hate and the prominent issue of inequality, I needed to be a voice and stand up for what was right. I had this strong sense of duty, and I had a platform. I wanted to be the one to draw the line in the sand and say enough is enough."
The Love Over H8 clothing brand features comfy shirts, hoodies, hats and joggers, some of which have the clothing brand's logo and words like "Truth," "Love Hard" and "Fierce" displayed on them. "These clothes are for those who want to march but can't. For those who may be too scared to take the leap, this is the first step. Wear your truth, and at the same time, give back to a cause that touches you."
Najafi says the brand is primarily a medium for positive change and offers the lowest price point possible (shirts start at $35). "Clothes are the medium; we are 100-percent mission first. It's a conversation starter and a way to get the ball rolling. I am not in this to make a ton of money; I am in this to make a change."
In the future, Najafi hopes Love Over H8 becomes a household name. "We have set our sights on creating the change we want to see in the world, and this clothing brand is just the beginning. Let's move the needle, stick our neck out and make a change. We have an opinion, and we have a voice. Let's give back and change the world."
To Learn More
Love Over H8 loveoverh8.com.