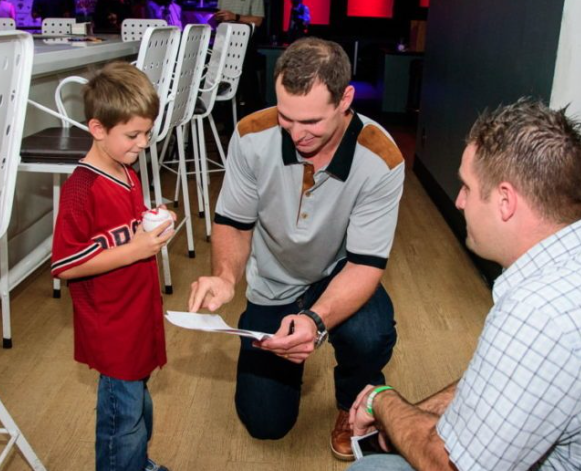 On Feb. 22 at Lucky Strike, Arizona Diamondback Paul Goldschmidt, and his wife Amy, will host the second Goldy's Bowling Bash. The event benefits Goldy's Fund 4 Kids, which aids to thousands of children and families of Phoenix Children's Hospital, and is going to be bigger than ever. The red-carpet festivities start at 5 p.m., and there will be a huge after-party in the Gypsy Lounge with dinner, drinks, a DJ, and the chance to meet other Valley sports stars. Like Archie Bradley, AJ Pollock, Jake Lamb, Robbie Ray, Jeff Mathis, Daniel Descalso, David Peralta, Patrick Corbin, Torey Lovullo, Jim "Bones" Mackay, Drew Stanton, Buster Posey, Shane Doan, Luis Gonzales, Nolan Arenado, Justin Upton, Evan Longoria, Clayton Kershaw and many others. Here, Goldschmidt talks Goldy's Bowling Bash.
AFM: What do you expect to be different from this year to last year?
PG: We are going to have a lot more athletes and celebrities that are able to attend! Last year the event was in November after the baseball season, and this year it is the first week of Spring Training so all the baseball players will be in town.
AFM: Any goals that you have for this year's fundraising?
PG: I don't have a dollar amount in mind, but the goal is to raise as much money as possible while also getting the word out about the needs of Phoenix Children's Hospital. While financial support is always great, there are many other ways people can help out such as volunteering at the hospital, supporting other events, or even helping take care of their friends in need. I hope this event encourages people to make a difference in other people's lives whether that is through Goldy's Fund 4 Kids or another way.
AFM: What can we expect for this year?
PG: We can expect the same fun atmosphere from last year. The event was definitely an upbeat event with lots of participation. The bowlers had a lot of fun and were very competitive, and the spectators had fun mingling and watching the bowling. Most people stuck around for the after party and overall people enjoyed a great night out while supporting a worthwhile cause.
AFM: How can people get involve and support Goldy's Fund 4 Kids if they can't attend?
PG: We will have our silent auction open to everyone so there are many items to bid on or people can donate. Also, I would just encourage people to get involved in helping others in any way they can. There are many openings for volunteers are PCH and also many other organizations around the Valley which need help. We are all here to make a difference in someone else's life so go do that the best way you know how!
AFM: What did you learn from last year's first event?
PG: People taking bowling more competitive than I thought. We thought bowling would be secondary, but it got really competitive. This year it will be more structured so we can know for sure which team and individual is the winner. Also, we have a ton of local support. All of our sponsors are local companies and most people who attended the event live in the Valley. We are tremendously thankful for all the support of the Arizona community!
Visit www.GoldysFund4Kids.org for tickets, sponsorship and more information.