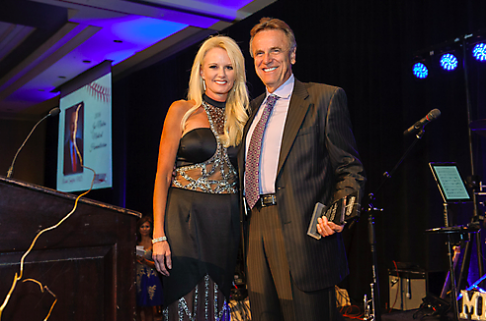 Returning to the Valley for its third year, the Knuckle Ball Gala will take place on December 9th, 2017, at the Omni Scottsdale Resort and Spa at Montelucia. The event, hosted by the Joe Niekro Foundation™, will support brain aneurysm, AVM and hemorrhagic stroke research and awareness with proceeds benefitting the Joe Niekro Foundation's Patient Services and Education Program, as well as establishing a localized research grant.
Norris Thomas, Speaker/Author/Broadcaster and former professional athlete will emcee the event. He will be joined by a prestigious group of other athletes and celebrities from across the country for an evening filled with fun, exceptional cuisine and philanthropy.
The Joe Niekro Foundation™ was founded by Natalie Niekro, daughter of 22-year MLB veteran Joe Niekro, in 2008 after her father's sudden passing from a ruptured brain aneurysm. The first Knuckle Ball, named after the pitch that made Joe Niekro famous, took place in 2009 in Houston, TX where he spent the majority of his career. In 2015 Ms. Niekro decided to add an event in Phoenix, AZ, where she lives and also where the funds will stay.
The Joe Niekro Foundation™ is committed to supporting patients and families, research treatment and awareness for brain aneurysms, AVMs and hemorrhagic strokes. The foundation provides education on the risk factors, causes and treatments of these conditions while funding the advancement of neurological research.
"It is so vital to raise awareness for an illness that can change a life in an instant, said Natalie Niekro. Events like The Knuckle Ball are a great platform for us to educate communities on the importance of research funding and bring a greater overall awareness to these life threatening conditions."
For more information on the Joe Niekro Foundation™ visit joeniekrofoundation.org. To purchase tickets for the event click here.