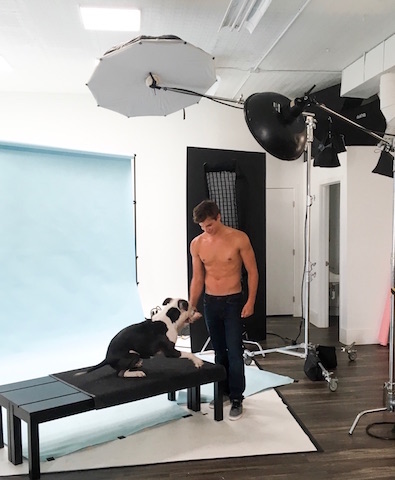 For the third year in a row, the Arizona Animal Welfare League has brought models, photographers, make-up artists, photo studio owners and experts alike all together to volunteer their time, talent and resources to help raise money for the shelter.
Three years ago, creator and organizer of the annual calendar, Whitney Steele, came up with the idea to showcase animals that have been in the shelter for a long time to hopefully give them a new home, all while raising money for the upkeep of the shelter. The last two years, they've raised thousands of dollars for the shelter and many of the animals found new and loving homes along the way.
Michael Morefield, marketing and communications manager for AAWL, says how over the past three years, they were able to get models from all over the United States to volunteer their time to hang out and take pictures with adorable animals. "No one says no. One model flew from California another animal activist came all the way from D.C.," Morefield says. When asked about the way in which they pick which model and stud will represent a specific month in the calendar, Morefield answered, "We don't know until we see the photo. Once we see the photo, we pick the perfect month for it."
The amazing thing about this calendar is that it not only raises money for the upkeep of the shelter, but it also shows off the adorable cats and dogs that are in search of a new home. "It's all about the animals," Morefield says "The handsome models are here to just show off the handsome animals."
Make sure to pre-order your 2018 calendar today as 100 percent of the proceeds will go to the shelter and their mission to end pet homelessness. Visit, here, to order your calendar or pick one up at the 2017 Walk to Save Animals in Tempe, Nov. 4.