EPIK Dance Company not only aims to entertain but also enrich and contribute to the community with sensational performances.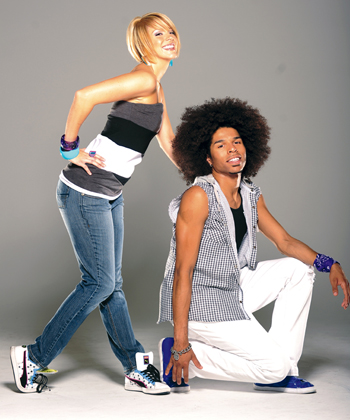 Put on 'Somebody to Love.'" Within minutes, the entire crew is up and freestyling to the Justin Bieber and Usher hit in the middle of an empty courtyard at The Salvation Army Herberger Day Care Center in Phoenix. In the spring, nine of the members of EPIK Dance Company put on a jaw-dropping performance, as well as taught the center's children and families fun dance moves, at the Free Arts of Arizona's "Spring Is In." As soon as you walked in the courtyard, you could automatically feel the enthusiasm as well as the uplifting beat within this group.
EPIK is a nonprofit organization known as a street fusion dance company, combining the styles of hip hop, breaking, popping, locking, house, punking, modern, contemporary, lyrical and jazz. Artistic directors and co-founders Luis "Weezy" Egurrola and Sarah "Saza" Dimmick started EPIK in 2007, both sharing a love and energy for music and dance. Egurrola and Dimmick met in 2005 while connected with another company, the WNBA Phoenix Mercury Hip Hop Squad. The two decided they wanted to create their own company to bring a positive dance movement to the community.
The 14 EPIK members range in age from 18 to 31, some of whom are students at Arizona State University and Mesa Community College. "It's a family away from our real families," Egurrola says. In the weeks leading up to a big event, they may spend 12 hours a day together.
The dance company holds low-cost classes open to the public every Thursday and Sunday at the Paula Carr Dance Academy, which generously donates the studio space to EPIK. There, they teach a variety of different styles to their students like jazz, contemporary and even ballet. In addition, different organizations and companies hire them to perform to "hype up an event."
To share the gift of dance with the community, EPIK holds free charity workshops where they teach children basic choreography. For its work with local schools, the dance company has even been nominated for a Governor's Arts Award. One of the most remarkable charity events EPIK took part in was Soles4Souls. Participants decorated 3,000 pairs of shoes, which were donated to those in need in places like Haiti, Kenya and Nepal; EPIK performed for attendees, inspiring them to decorate. "For every paid performance these dancers do, they do three unpaid charity events," says Rachel Hawkinson, executive director of EPIK. Among the local organizations that EPIK is involved with are Free Arts of Arizona, Tumbleweed Center for Youth Development, 1n10, Phoenix Children's Hospital, HomeBase Youth Services, AIDS Walk and Sunshine Residential & Group Homes, to name a few.
Future goals for EPIK? "To really be deep-rooted into the community," Egurrola says. EPIK hopes to see its annual "Common Ground" event go on tour and to open up an "urban arts center" that would have rehearsal space for the group. The center would be a spot to bring groups  to dance as well as teach and foster all facets of the performing arts within the community.
TO LEARN MORE
EPIK Dance Company  www.epikdanceco.org.