Page 1 of 2
This month, dedicated women from all walks of life will be honored by an organization that inspires girls to take the lead.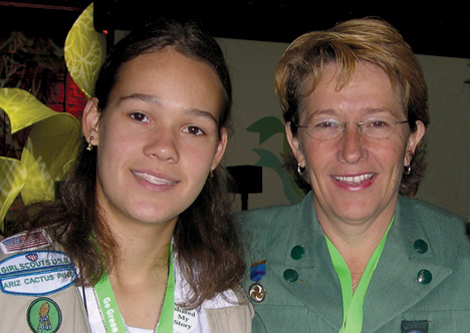 Forget the thin mints and Samoas, the Girl Scouts—Arizona Cactus-Pine Council aims to accomplish so much more than satiating sweet tooths across the state. Although the Girl Scout name has become synonymous with those small boxes of heaven we stock in our pantries, for nearly 100 years, the Girl Scouts organization has been instilling in young girls the importance of leadership in their own actions, their ambitions and in their communities.
"What we are trying to create are opportunities and support for girls so that they can author their own lives," says Tamara Woodbury, CEO of the Girls Scouts—Arizona Cactus-Pine Council, who became a Girl Scout in her teens. "So that girls can make decisions that come from a deep sense of knowing about themselves and that are congruent with their own values. And I think that then helps girls have resiliency against peer pressure and all kinds of other things.
"As one of 171 Girl Scout Councils in the United States, the Arizona Cactus-Pine Council was formed in 1936 and works at implementing programs that equip girls with the tools necessary to improve the communities in which they thrive. Encompassing more than 66 percent of the state, the Arizona Cactus-Pine Council serves nearly 23,000 girls across Arizona. Leadership is a highly regarded theme in the Girl Scout philosophy.