Be a part of making a difference for children with Pediatric Feeding Disorder (PFD) at the first annual Feed the Cause: An Arizona Signature Event Supporting Pediatric Feeding Disorder hosted by Feeding Matters on Thursday, November 9 at the picturesque Papago Golf Club.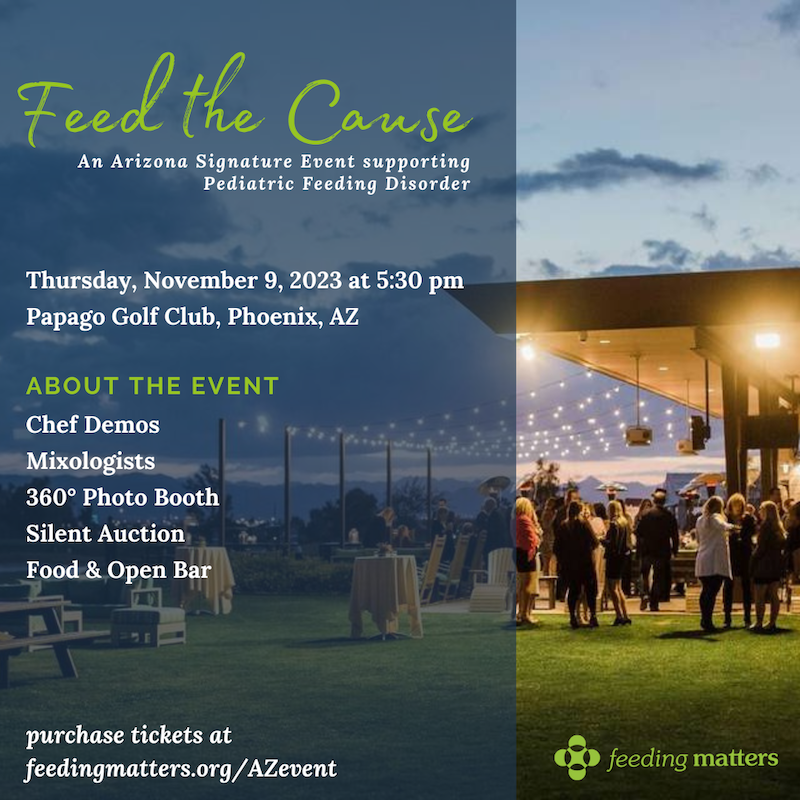 Proudly presented by Lerner and Rowe Gives Back and Shamrock Foods Foundation, the inaugural Feed the Cause event promises an unforgettable evening of education, inspiration and connection. Guests will be joined by Feeding Matters honorary chairs Shannon and Bob Goldwater as they hear heartwarming accounts from families and children with PFD and network with like-minded individuals and community leaders to create valuable connections and support a worthy cause.
Event highlights include gourmet cuisine by the renowned culinary team at Papago Golf Club, a full open bar and live mixology demos, along with chef demos from acclaimed chef Roberto Centeno of Bacanora and Espiritu and from Katie Murwin, Founder and CEO of Sensory Cooking, who will be joined by Speech-Language Pathologist and Give Garden owner Janet Morrow. The event will also feature a silent auction and 360° Photo Booth as the perfect way to capture the memorable evening.
Feeding Matters is a locally-founded nonprofit and the first organization in the world that is uniting families, healthcare professionals and the broader community to ignite necessary and unprecedented change in the PFD care system through advocacy, education, support and research.
Affecting more than one in 37 American children under the age of five annually, Pediatric Feeding Disorder is often a silent battle that makes eating and swallowing painful, scary or simply impossible, which can potentially impede nutrition, development, growth and overall well-being. Despite the fact that the prevalence of PFD in children surpasses that of well-known childhood conditions like cerebral palsy and autism, there is no functional system of care for PFD locally, nationally or internationally, leaving families dealing with PFD with limited access to evidence-based data, misinterpreted information and lack of support.
"In creating the First Annual 'Feed the Cause,' we aspire to shine a light on Pediatric Feeding Disorder, a battle impacting countless lives," says Jaclyn Pederson, CEO of Feeding Matters. "This event is not just a fundraiser; it is a platform for education, inspiration, and forging connections within our community. It is also an occasion for Arizonans to feel tremendous pride, as this locally-founded nonprofit creates a positive difference in the lives of these children and their families worldwide, one PFD case at a time. Join us in-person on November 9th for an unforgettable evening, as we embrace this meaningful cause."
Tickets to the first annual Feed the Cause event start at $225 per person with all proceeds going towards Feeding Matters' mission to improve the lives of children living with PFD. For tickets and more information on the event, as well as more on how you can make a difference and get involved, click here.