After a two-year hiatus, Larry Fitzgerald, Jr. partnered with Dominick's Steakhouse to bring back Fitz's Supper Club on May 8, 2023. The event is Larry Fitzgerald's biggest fundraiser of the year and this year was no exception, generating $1 million in charitable funds for the first time in the event's 13-year history.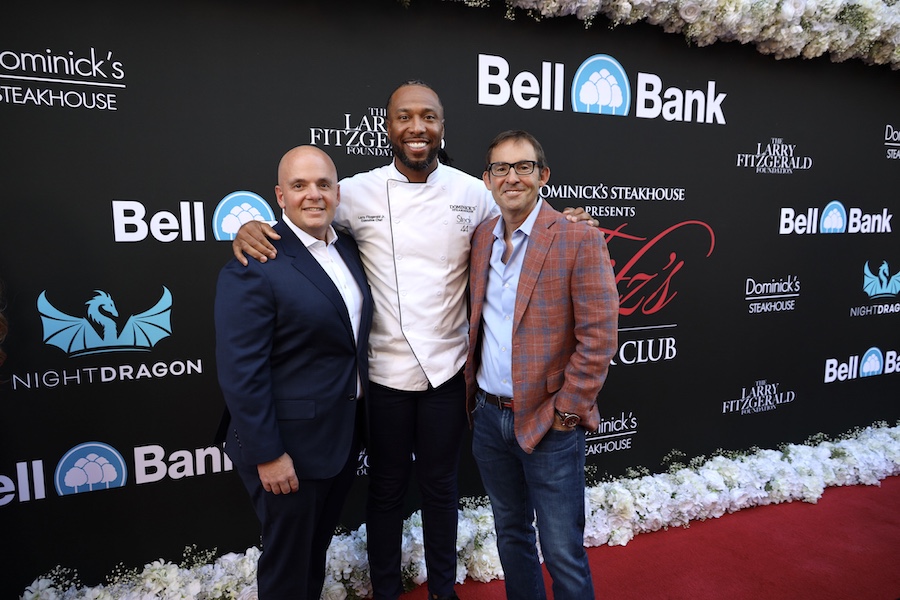 Pictured from left to right: Oliver Badgio, Larry Fitzgerald, Jr. and Jeff Mastro
The sold-out dinner welcomed more than 250 business and community leaders. Those in attendance included Larry Fitzgerald, Jr.; Danielle Frost, executive director of The Larry Fitzgerald Foundation; Dominick's Steakhouse CEO Jeff Mastro; NBC New York's Dave Price; former Arizona Cardinal Michael Floyd; NASCAR's Phoenix Raceway President Latasha Causey; Bell Bank SVP and Director of Business Development Gerald Deetz; Night Dragon CEO David DeWalt; President & CEO of Phoenix Final Four Local Organizing Committee Jay Parry; Impact One Board President Elizabeth Cluff; and Elevate Phoenix Education Director Amanda Covarrubias.
Danielle Frost, executive director of The Larry Fitzgerald Foundation, expressed her gratitude, stating, "It really warms my heart to see so many people who genuinely care about our community and are eager to give back. Bringing people together and collaborating to drive positive change in our communities is always a great feeling."
Fitz's Supper Club is the premier philanthropic of the year, featuring inspiring speeches, heartwarming stories and delicious food. Attendees enjoyed entertainment from Magician and Mentalist RMax Goodwin and Master Violinist John Uzodinma II. Letitia Frye, America's Foremost Auctiontainer, hosted silent and live auctions on exclusive autographed sports memorabilia and luxury travel excursions.
"I would like to extend my heartfelt gratitude to Dominick's Steakhouse for their many years of support," said Larry Fitzgerald, Jr.. "We could not have accomplished this without their partnership and to all of my friends, guests, sponsors and donors who made this event such a tremendous success."
Arizona Cardinals veteran Fitzgerald Jr. established the Larry Fitzgerald Foundation with the aim of providing equitable access and creating new pathways for success for underrepresented communities worldwide. For more than two decades, the Larry Fitzgerald Foundation has supported youth education efforts and breast cancer awareness. The Foundation was established in honor of Fitzgerald's mother, Carol, who passed away from breast cancer when he was in college. An advocate for youth, education and families, Carol was a founding member of the African American Breast Cancer Alliance.
Fitzgerald Jr. discussed some of the exciting plans he has to activate the generous donations. "I'm really thrilled about putting technology labs in schools and being able to bridge that gap in education," said Fitzgerald, Jr. "Education is the one thing that you can do to elevate yourself. I really enjoy seeing young people in the computer room or art class or doing research on history to write a term paper. That gets me excited because I see the growth in young people, and that's what the Foundation is meant to invest in."
For more information about The Larry Fitzgerald Foundation and its mission, visit www.TheLarryFitzgeraldFoundation.org. View event photos here.