For Girl Scouts across the nation, winning the Gold Award is an esteemed recognition, awarded only to the most exemplary scouts each year. The award is the highest honor for a Girl Scout, given to high school-aged girls as a symbol of their leadership and dedication to the program. This year, the Arizona Cactus-Pine Council granted this prestigious honor to 22 remarkable young women in the Valley.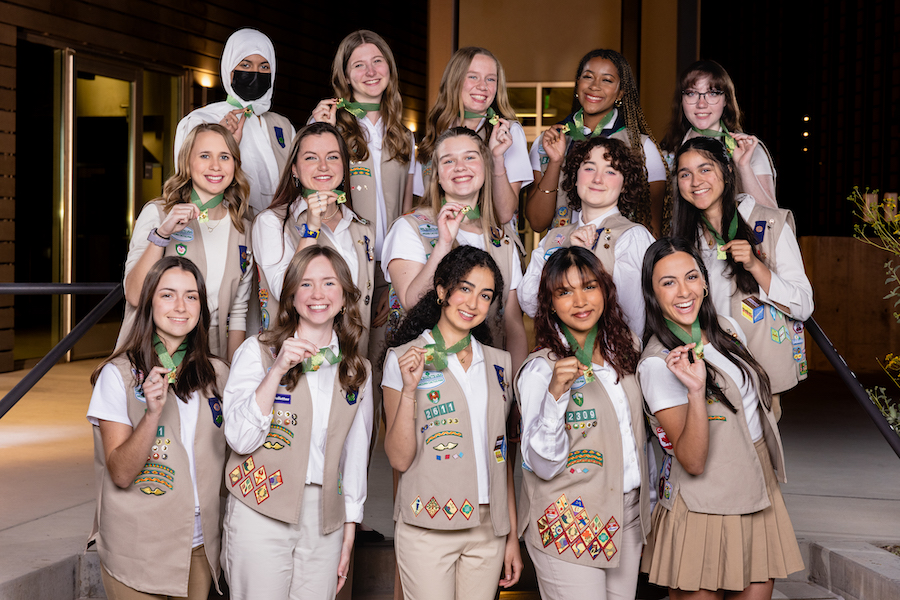 To obtain this distinction, Girl Scouts focus on a local or national challenge of their choosing and craft a sustainable solution that employs the multitude of skills learned throughout their participation in the Girl Scout program.
"This year's Gold Award honorees exemplify fantastic leadership and civic engagement by dedicating themselves to addressing important causes and taking action to make the world a better place," says GSACPC co-CEO Christina Spicer. "As a nationally recognized symbol of leadership, the Gold Award is a truly remarkable achievement."
This year's inspiring Gold Award winners took on prominent issues faced by Arizonans across multiple sectors and crafted creative solutions to the problems. Girl Scouts donated helmets and bikes to children of military families and collaborated with well-established muralist Alex Cook to design a 43-foot painting to support high school students' mental health, displaying initiative and creativity in crafting their projects and leaving an incredible mark on their community.
The unique opportunity presented by the Gold Award is that Girl Scouts are able to craft their projects around causes that are uniquely important to them. For example, Falak Asif raised awareness on youth mental health by starting Cubs' Den, a safe space for students at her high school to destress with toys, art, puzzles and books. Asif's Gold Award represents her future aspirations to join the field of psychology, all the while teaching her skills in leadership, project management, and communication that have forever changed her.
Another amazing project was headed by Misha Ghafouri. A Girl Scout of 14 years, Ghafouri founded Iranian Youth Connections, an online platform created to foster a welcoming space for Iranian youth like herself to connect and share Iranian culture. Ghafouri designed a website for the project and has partnered with the Iranian American Society of Arizona (IASAz) to craft youth mentorship programs. Her work was so influential that she was invited to speak at the annual gala held by the IASAz.
Completing a Gold Award is a life-changing experience. Awardees learn skills in problem-solving, communication and time management that will help them for years to come. Awardees also receive added benefits later in life, ranging from scholarship opportunities to enlisting at a higher pay grade in the military, all while distinguishing themselves among the competition in the college or job market.
The 2023 Gold Award ceremony on Saturday, March 25, 2023 showcased the amazing work completed by these stellar young women. These 22 awardees join a legacy of Girl Scouts who continue to leave a lasting impact on the communities they live in, standing as symbols of strong community leaders. It's clear that these girls are leaders in their communities and are making a significant impact on the world around them. To learn more about the Arizona Girl Scouts, visit www.girlscoutsaz.org.