Get ready for another exciting golf tournament returning to the Valley next month. Ronald McDonald House Charities of Central and Northern Arizona (RMHCCNAZ) will host its annual FORE the House Golf Tournament on Monday, April 24, 2023 at Phoenix's Papago Golf Club.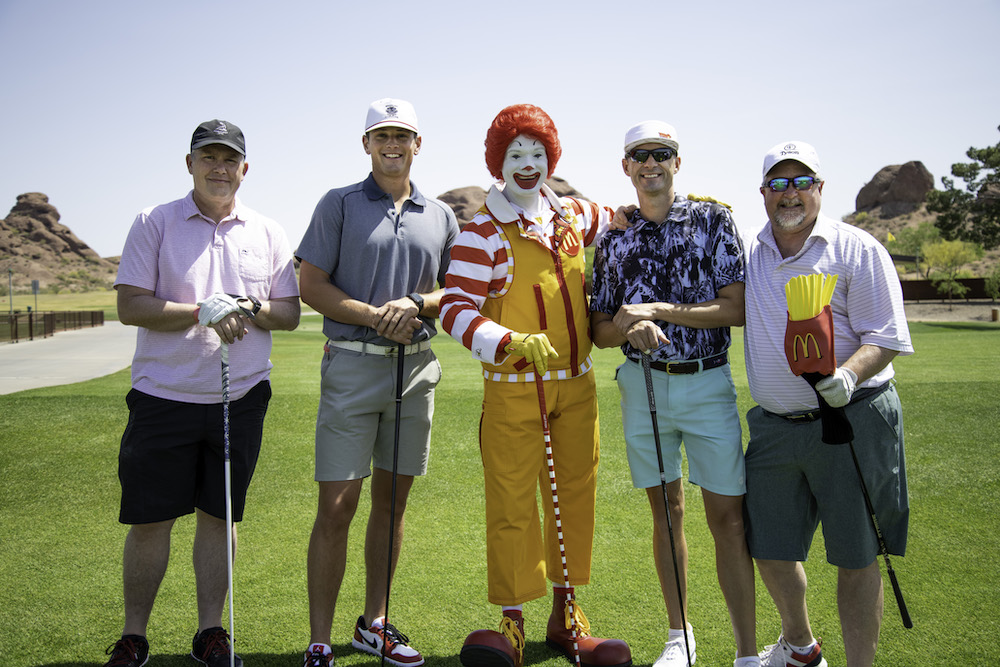 From L to R: Brandon O'Rourke, JC Hughes, Ronald McDonald, Nick Beach and Steve Meves
The crucial funds raised during the event will support RMHCCNAZ's mission of providing a "home-away-from-home" for families who travel to the Valley seeking critical medical care for their children by giving them a comfortable place to stay and rest at one of the three Ronald McDonald Houses in the Phoenix area at no charge.
RMHCCNAZ board member Matt Salata, who also currently serves as vice president of business development & premium sales with the Phoenix Suns, will return as chair of the tournament for a second year, while Tyson Foods, a long standing supporter of RMHCCNAZ, will lead the charge as presenting sponsor of the tournament.
"We at Tyson are proud to partner with RMHCCNAZ," says Tyson Sales Account Manager JC Hughes, in a statement. "We love to see the positive impact that we can make not only in our community but also in the lives of those who live in it. We are extremely grateful to partner with such a caring team of people at the House and look forward to continuing great things in 2023!"
The event will kick off with a 10:30 a.m. shotgun start and conclude with a 19th hole reception at the clubhouse. Activities throughout the tournament will include a morning drink bar featuring breakfast burritos and Bloody Mary's, on-course activities and prizes, a helicopter ball drop raffle and a reception celebrating the mission of Ronald McDonald House Charities.
"We are thrilled to head back to Papago Golf Club for our golf tournament with the incredible support of Tyson Foods and the leadership and enthusiasm of Matt Salata," says RMHCCNAZ CEO Kerry Schulman, in a statement. "The FORE the House Golf Tournament is one of our most important fundraising events of the year and the funds raised will go directly towards helping families in need and supporting our mission."
For more information about the 2023 FORE the House Golf Tournament and to learn how you can participate in or sponsor the upcoming charitable event, click here.