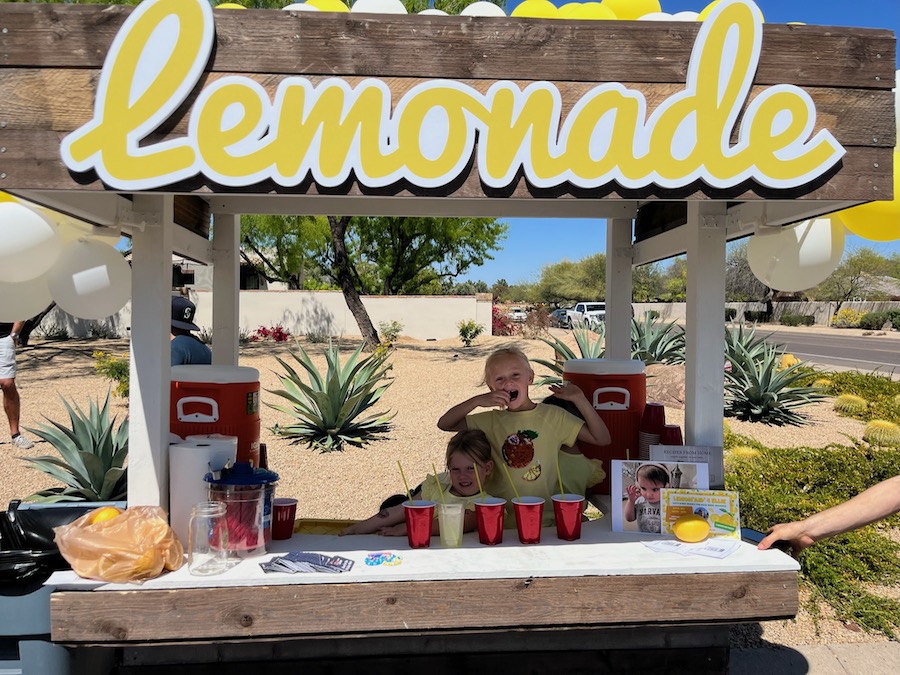 When best friends Tatum Pillor and Maisie Gerken, both eight years old, first heard about 19-month-old Ellie's devastating battle with cancer, they jumped into action to help.
The Phoenix-based second graders contacted Ellie's family, who is located in Virginia, with the idea of hosting a lemon "aid" stand to raise money for Ellie's treatment and bring greater awareness to childhood cancer.
After doctors discovered a mass in her belly in January 2022, Ellie was diagnosed with a rare cancer called rhabdomyosarcoma, a solid tumor in the sarcoma family of cancers.
On April 2, 2022, Tatum and Maisie set up shop for #lemonaid4ellie with a bright lemon-yellow sign on a wooden stand outside of Tatum's home, where they sold cups of fresh lemonade, colorful handmade bracelets and other yummy treats, with all proceeds benefitting Ellie's care.
While the girls made sure to invite their friends, family, school and community ahead of time, the turnout far exceeded expectations: Cars could be seen wrapped around the neighborhood block—from familiar faces to complete strangers—resulting in $18,000 raised after a mere 4 hours, which far surpassed the girls' original $3,000 goal.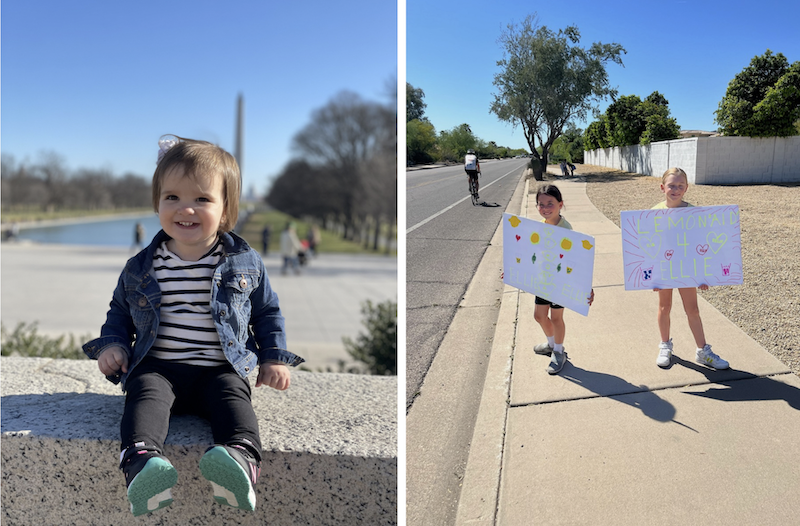 From L to R: Ellie, who was diagnosed with a rare childhood cancer; Tatum Pillor and Maisie Gerken holding #lemonaid4ellie signs
The funds will now allow Ellie's family to pay completely in cash for her stem cell harvesting procedure during their 2-month stay in New York City, instead of having to focus on the bare minimum for her survival.
"Cancer is a journey and there are many steps along Ellie's journey in order to beat this disease," says Nicole Pillor, Tatum's mom. "Her treatment is proving to be successful. The cancerous tumors are shrinking, which has allowed for the doctors to move forward with planning her surgery to remove the tumors for good."
The success and positive impact of #lemonaid4ellie has inspired Tatum, Maisie and their families to consider hosting an annual fundraiser to benefit a cause in need.
To donate or learn more about Ellie's story, visit www.caringbridge.org/visit/ourbraveellie.