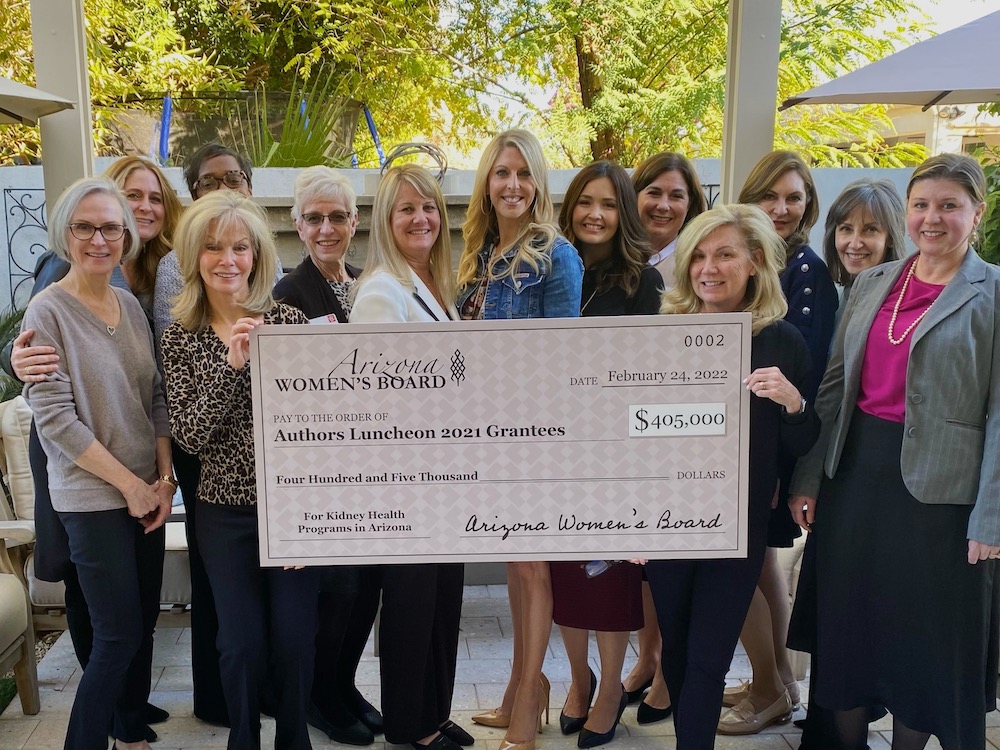 The Arizona Women's Board has recently granted over $400,000 to six local nonprofits. The nonprofits were chosen based on their alignment with the Board's mission to prevent kidney disease and improve the quality of life for Arizona kidney patients.
"We value the important and creative programs our six grantees proposed to address kidney disease," says Arizona Women's Board President Shaun Bracken. "Collectively, it's an impressive array of resources committed to kidney health."
The grant funds came from the Friends of Erma Bombeck 42nd Annual Authors Luncheon that took place virtually in late 2021. Led by chairwoman Susan Purtill, the event hosted an array of best-selling authors with hundreds of virtual event attendees. The annual fundraiser sells out yearly and is considered one of the most highly regarded philanthropic literary events in the country. Since its first program in 1980, the luncheon has raised almost $13 million.
"I would like to thank every patron, donor, author and guest for their generous support, especially during these challenging times," Purtill shared. "Luncheon contributions directly impact the fight against kidney disease."
The grantees receiving 2021 Authors Luncheon funds include: National Kidney Foundation of Arizona, Phoenix Children's Hospital Foundation, St. Joseph's Foundation, TGen Foundation, Transplant Community Alliance and Valleywise Health Foundation. Along with being recognized by Arizona Women's Board, azf wants to further acknowledge the hard work of each of these nonprofit organizations by taking a closer look at what they do and stand for.
National Kidney Foundation of Arizona
The National Kidney Foundation of Arizona has dedicated over 50 years of service to the advocacy of children and adults in the Valley with chronic kidney disease. The foundation strives to bring hope to individuals and their families by providing renal-friendly cookbooks and groceries, emergency rent payment assistance, camp for children with kidney disease, community education about kidney health and disease prevention and by encouraging donations.
Phoenix Children's Hospital Foundation
The Phoenix Children's Hospital has a top team of pediatric nephrologist to treat children with kidney diseases and other related issues. The foundation's Nephrology Patient Assistance Fund supports access to pediatric blood pressure cuffs for at-home monitoring and offers financial support to families of children with kidney diseases.
St. Joseph's Foundation
The St. Joseph's Foundation provides the Home Peritoneal Dialysis Program to educate patients and caregivers on how to be active in taking care of their health from the comfort of their own home. The program strives to empower patients with kidney disease to live life independently and to its fullest.
TGen Foundation
The TGen Foundation's goal is to drive research for biomedical discoveries that will positively impact the lives of patients and their families. The foundation provides education and outreach into the community to inspire the next generation of researchers and physicians. The main focus of their progress comes from their non-invasive biomarkers which can detect diabetic kidney disease and its level of advancement through urine samples.
Transplant Community Alliance
The Transplant Community Alliance supports kidney transplant patients and their families by providing free resources including the Patient Living Assistance Fund, a support group, transplant mentors and an online anxiety course. Each of these no cost aids offers relief, information and support to patients.
Valleywise Health Foundation
The Valleywise Health Foundation raises funds for education programs and resources, research, programming and critical patient services. The foundation's Healthier Families Food Pharmacy provides healthy foods to low income patients and their families to reduce and prevent chronic health conditions that can lead to kidney disease.
Each of these nonprofits has made a positive impact in the community and can continue to do so thanks to the support of donors like the Arizona Women's Board. Following the success of 2021, this year's 43rd Annual Friends of Erma Bombeck Authors Luncheon will be held on Saturday, Nov. 5, 2022, at the JW Marriott Desert Ridge Resort and Spa. For more information and to learn how you can be a part of the event, please visit authorsluncheonaz.org.