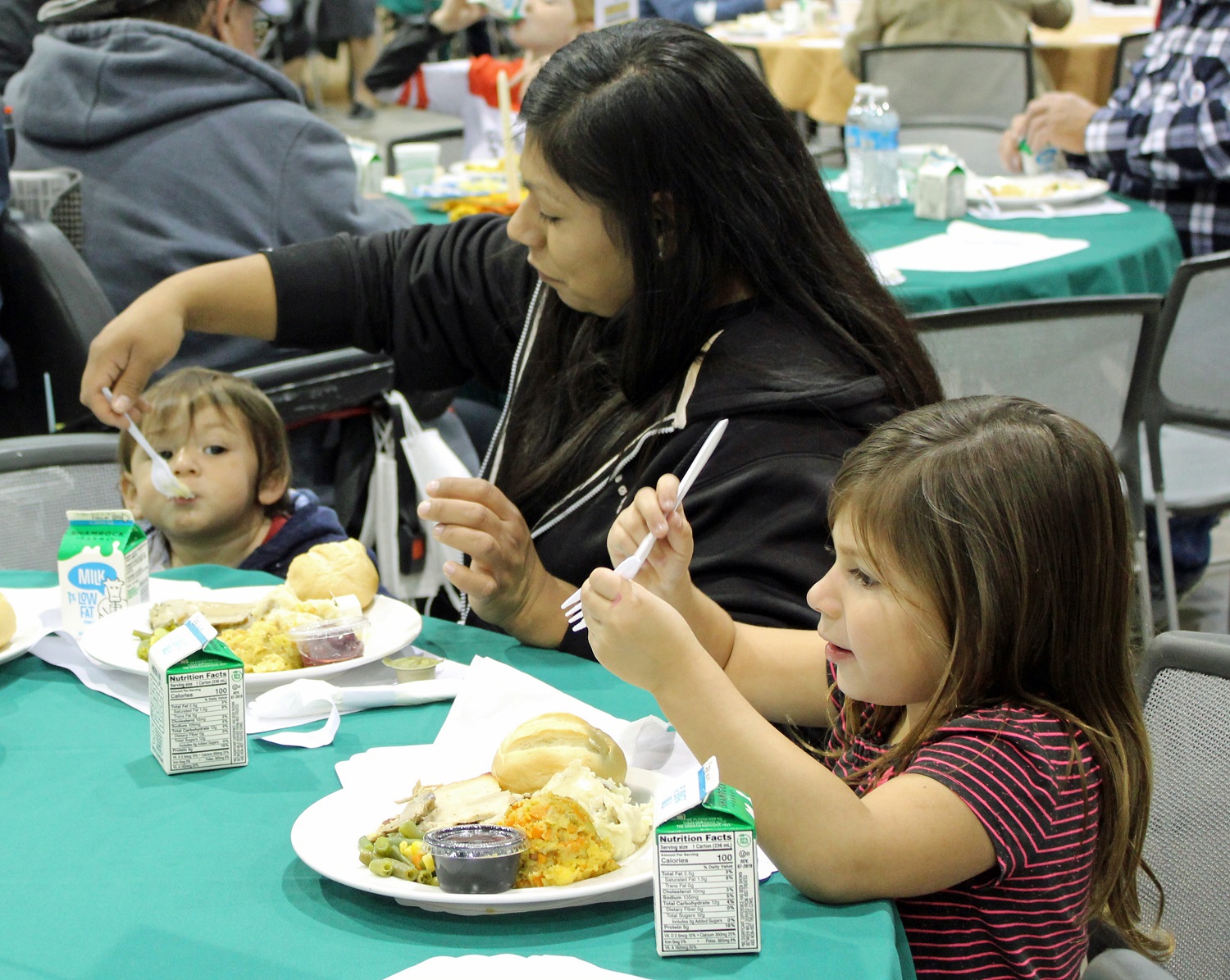 The Salvation Army, bringing the joy of the holidays to Arizonans for more than 125 years, will provide Thanksgiving meals with all the fixings to neighbors in need on Thanksgiving Day, Thursday, Nov. 25.
"The Salvation Army is extremely grateful to the City of Phoenix and Phoenix Convention Center for working with us to allow guests to come back for a sit-down meal to enjoy food, fellowship and fun," said Major David Yardley, The Salvation Army Metro Phoenix Program Coordinator. "This event is open to the public and for people of all ages. No advance signup or registration is required. Please join us."
The Thanksgiving event will be in its traditional location in the South Building of the Phoenix Convention Center (southeast corner of Third Street and Washington Street), and precautions will be in place to maximize the health and safety of guests, officers, staff, and volunteers.
Doors will open at 9:30 a.m. with music and a big-screen TV for watching parades, football, etc. A room for prayer will also be available.
Face coverings will be required of anyone coming inside; they will be provided for anyone without. Salvation Army officers, volunteers and staff will all be wearing proper PPE, and hand sanitizing stations will be placed throughout the building. In the spirit of health and safety, there will be no special activities such as haircuts or nail service, as there have been in the past.
Meal service will begin at 11:30 a.m. and end at approximately 1:30 p.m. Tables will have less seats than in past years, and every effort will be made to have groups of related people seated together while still observing social distancing from other tables.
There will be a contactless drive-thru meal pickup option near the South Building loading dock, on the east side of the building, off Fifth Street, from 10 a.m. to 1 p.m.
The Army is in need of volunteers to drive their personal vehicles to deliver meals and smiles to homebound neighbors around the Valley. Other volunteers needed include greeters, security team and clean-up crew. Visit SalvationArmyPhoenix.org and click on the Volunteer tab to sign up.
If you are unable to make it to the Convention Center for dinner, select Salvation Army units across the Valley will also be serving Thanksgiving meals in their communities. Contact your local Salvation Army to learn more.
Via the sit-down, drive-thru and home delivery options, The Salvation Army expects to serve more than 6,000 Thanksgiving meals.
In 2021, The Salvation Army was ranked #2 on the list of "America's Favorite Charities" by The Chronicle of Philanthropy. The Salvation Army aided more than 425,000 Arizonans last year through a range of social services. By providing food for the hungry, shelter and clothing for the homeless, rent and utilities assistance, disaster and heat relief, senior activity and outreach, adult rehabilitation, opportunities for underprivileged children, holiday assistance, and emotional and spiritual support, The Salvation Army is doing the most good at more than 50 centers of operation across the state. Approximately 82 cents of every dollar donated to The Salvation Army are used to support its life-transforming social services. For more information about The Salvation Army, visit SalvationArmyPhoenix.org.