Where and When:

All Saints Episcopal Church
Saturday, November 13th, 2021 – from 10 AM to 3 PM
6300 N. Central Avenue, Phoenix 85012
(SW Corer of Maryland and Central, North of Bethany Home Road)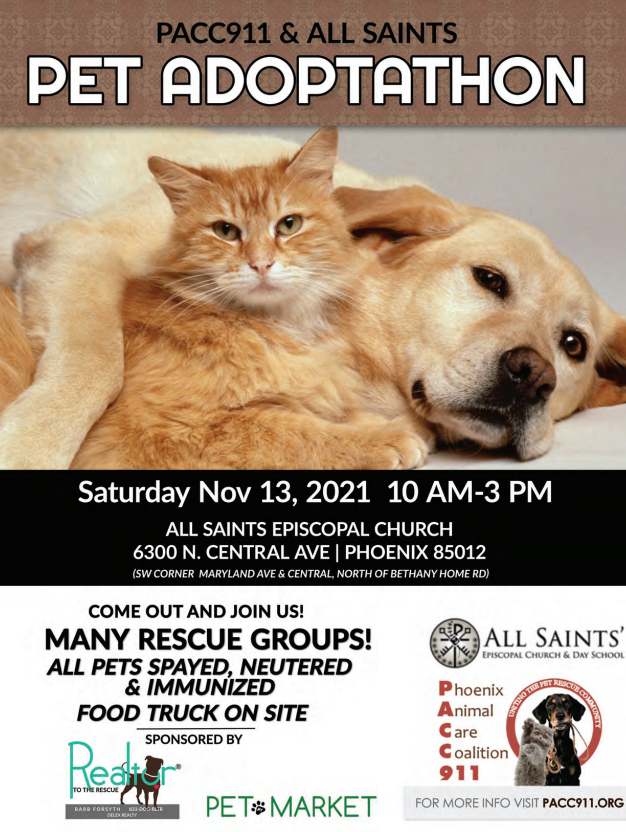 Many Rescue groups on site.
All pets in attendance are spayed, neutered and vaccinated. Our rescue partners know their pets' personalities and act as a matchmaker to help you make the best choice for your circumstances.
Your new best friend is waiting for you!
Recognizing that a great many potential pet owners shy away from traditional animal shelters believing them to be too noisy and depressing, PACC911 conducts eight outdoor adoption events throughout the Valley each year.
Since 2004 PACC911 Adoptathons have helped place well over 10,200 animals into new family situations.
Last year, despite the limitations of the pandemic, we put another 200 homeless pets into loving homes.
For More Info Contact:
Bari Mears - PACC911President/Founder

Robin Smith- PACC911 Adoption Event Coordinator / 602-501-1844